Product review : "Le criquet au Paprika" from Jimini's
Hello everyone!
Today is the review of a new product : "Le criquet au Paprika" from Jimini's. As written on the packaging "Partagez" (Share), my family joined me during this tasting experience! So we will taste for you (and for our pleasure!)this new spicy snack, a grasshopper covered with some paprika and tomato powder. This will be a true challenge for me : Eating some grasshoppers is totally normal but eating some appetizers between my regular meals is totally unusual for me…I hope I will achieve this!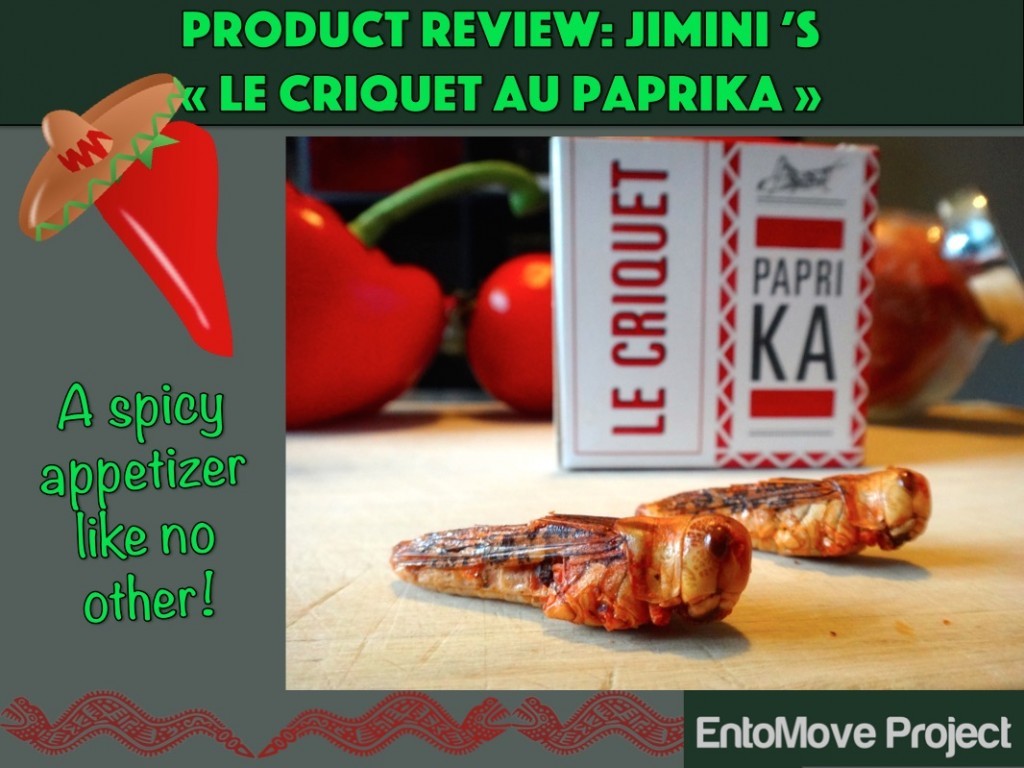 As you will see, I have stopped for the moment the stars ranking system. All the products I tasted were very different and can't be compared : a snack, a dried product and an energy bar.
In bonus : At the end of the test, you will find an amazing mexican wrestling fight in video between 2 spicy snacks : The paprika's grasshopper vs a tortilla chips. I hope you will enjoy this review and have a nice reading.
---
Who is Jimini's ?
Jimini's is a french society based in Paris. They are selling seasoned insects as snacks. 7 different recipes are available, all made with grasshoppers or mealworms reared in the Netherlands and processed in France :
"Le criquet" – Dried tomato & pepper
"Le criquet" – Paprika
"Le criquet" – "Greek"
"Le criquet" – Fruity curry
"Le Molitor" – Garlic & herbs
"Le Molitor" – Sesame & cumin
"Le Molitor" – Imperial soy
I met Bastien, one member of the Jimini's team at Montreal during the "Eating Innovation Conference" .He gently fed all the ferocious bug-eaters we are with some delicious "fruity curry" locusts.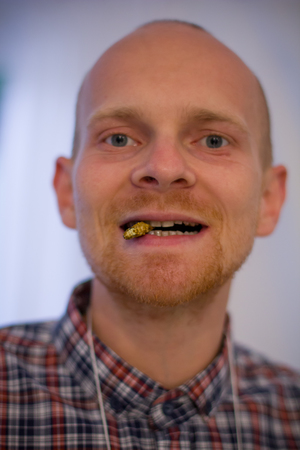 Their products are available in different shops in France and Belgium. You can also buy their delicious snacks from everywhere in Europe by taking order on their website: Jimini's : les insectes comestibles

If you understand french or even if you just want to have some fun, you can follow Jimini's on Twitter, Facebook or Instagram. They are very active on the social networks and each week you can participate at a funny quizz on their Facebook page in order to win some products!
Jimini's is playing with the fun factor in order to develop entomophagy and restore the image of "Le Criquet" et "Le Molitor". They do it totally and they do it well! Even if their snacks are eaten for pleasure, it's positive that they give few words about the nutritional and environmental benefits of entomophagy.
---
The packaging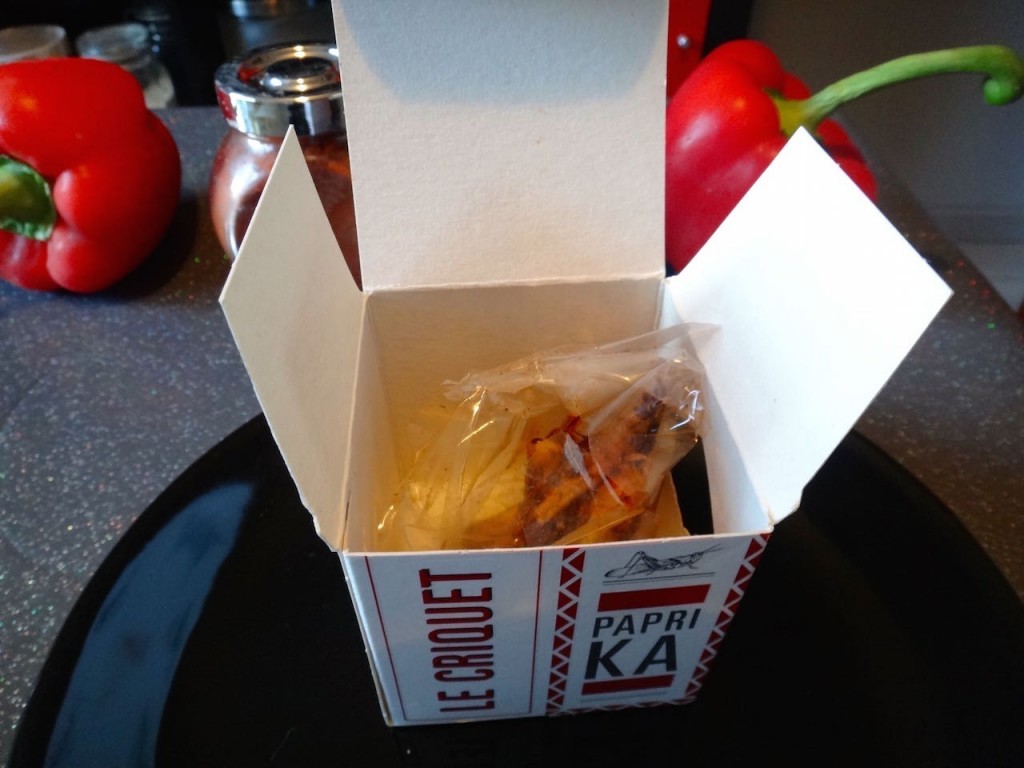 A lot of different companies chose to use some resealable bags as packaging, it goes round…Jimini's chose a cube! The products on themselves are inside a non-resealable bag. (No problem, they will be eaten before the 3 days recommandation!)
Every face of the cube is well used! You have the ingredients, the nutritional values, some recommandations and information about their products, everything is here! One face even is opened, so we can admire our lovely locusts!
Special mentions : Some characters are printed in relief and their 2 news products (the paprika and the greek) have a specific packaging with a new color, design and a little joke on the strip!. Needless to say, that the red suits perfectly with the paprika flavor!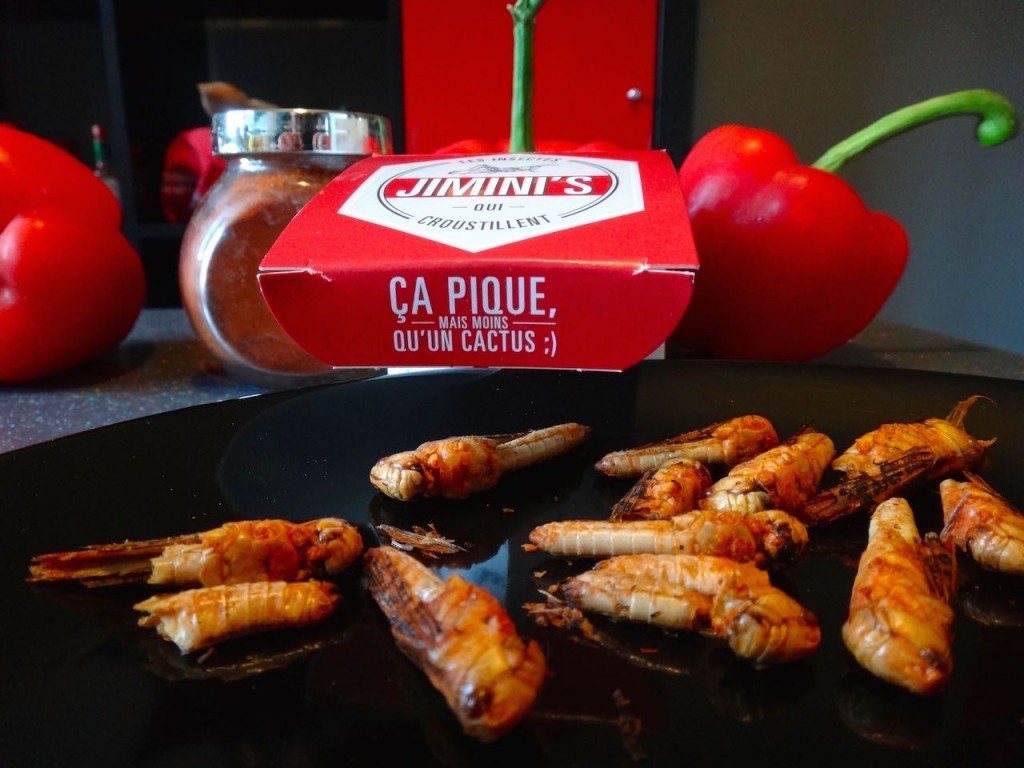 You will find 10 grams of products in a box, so approximately 12 nice locusts. (specie : Locusta Migratoria). These 12 locusts will be enough for a light snack for one person. But there are 2 problems, first you want to share your locusts and secondly everybody around you will want to drop their snacks and steal your delicious locust! But, in fact, it ain't such a problem, Jimini's has created "l'Apéro-Boîte" with different products in it!
Yeah, I know… I have spoken about grasshoppers, locusts and the french noun is "Criquet", so if you're quite lost you can read my bug-inspection for more information about the subject!
For ending this part, I will say that the packaging is very nice, useful and has a strong identity. I hope that in few years everybody will recognize these boxes on the shelves or on the tables at first glance! If I had to find something negative, I would say that some locusts were broken, but in the mean time it's the perfect excuse for eating them! "Oh, such a shame it's damaged, I have to eat it!" (Well NO!!! I know how are generally handled the parcel so, I honestly think that Jimini's has nothing to do with that so I finally give a minus point to "La Poste"!)
---
Tasting review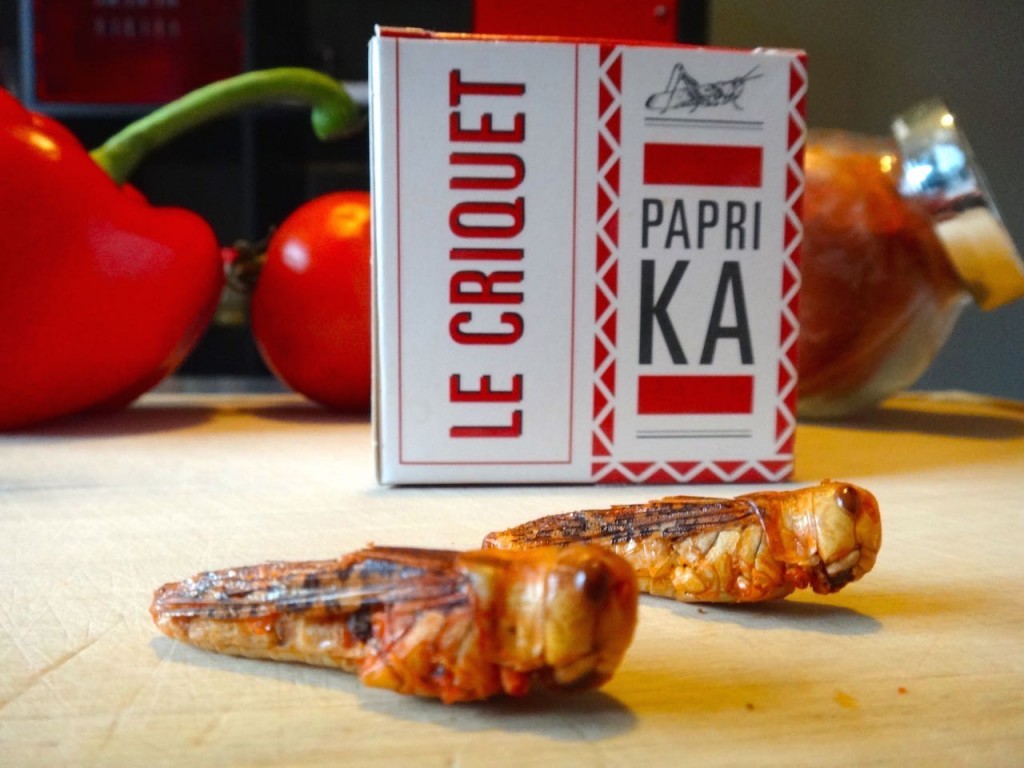 As usual my family made this tasting review with me, and we were all conquered by this product! After the mealworms, then the crickets, now the locusts, I turned my family into real bug-eaters!
Even if some locusts were broken, they were generally in good conditions and present an appealing reddish color (without using some carmine!). If the global aspect of a locust bothers you, you can take off the wings and the head, as mentioned on the packaging.
After opening the box, I smelled inside the bag and I was in Mexico! Some years ago, I ordered some seasoned insects on Internet and all the spices were in the bottom of the bag. Not this time! With Jimini's products, the spices are stuck on the bugs!
When you take the product in the hand, it's very firm and not greasy at all.
In the mouth, "Le criquet au Paprika" deserves well its name! It has a delicious nutty taste with some strong paprika flavor. The paprika flavor is well balanced and is spicy just as needed. (Unless you keep the bug in the mouth during 5 minutes for taking some photos!)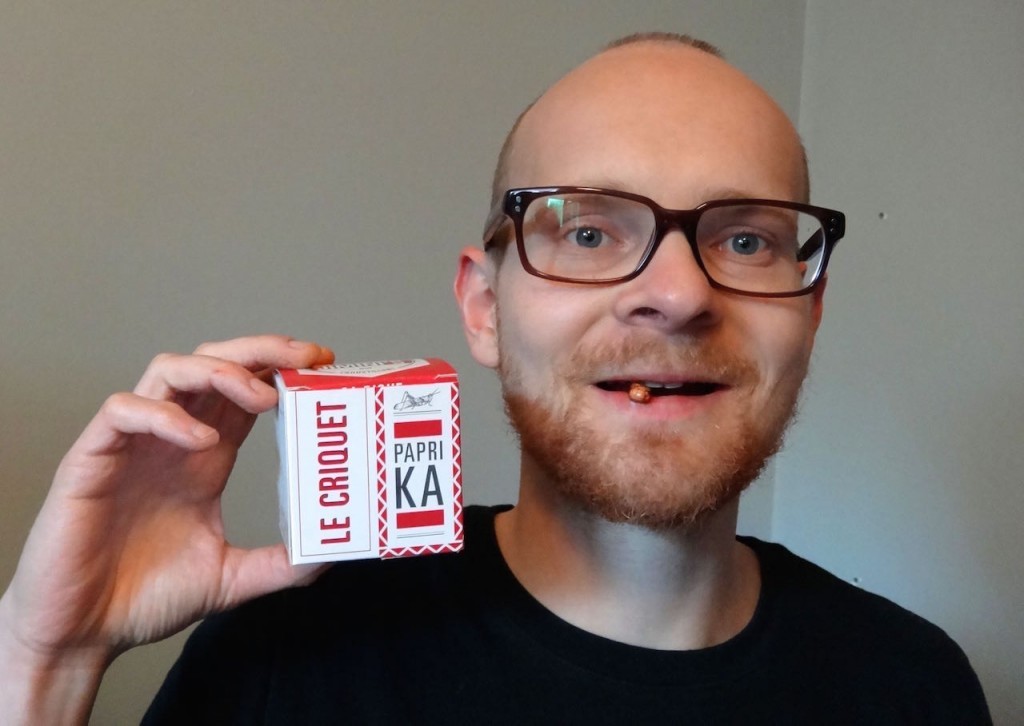 We knew that "insects are crunchy" but Jimini's has brought crunchiness into another level, needless to say that we were all delighted with this aspect!
---
Nutritional values
For one time, I decided to not bother you too much with calories, fats, amino acids, magnesium or glycemic index and all of these barbaric term… It's "l'heure de l'apéro", so relax and enjoy "Le criquet"! (If you want to read all the nutritional benefits of insects, you can read ALL my other posts!) So I will only have a few words about nutrition.
The tortilla chips contain some carcinogenic acrylamide a chemical molecule, which is produced by the transformation of maize at high temperature. (Sorry, it was too hard for me…)
In a comparaison to "a regular amuse-bouche" like a tortilla chip or grilled and salted peanuts, the Jimini's locust is much more healthy. It's rich in proteins, and contains some fat coming from the insect and the rapeseed oil. The majority of the carbohydrates are coming from the chitin of the insect so they act like fibers. With all these features, a little box of locusts will bring you much more pleasure and satiety than a full bag of tortilla chips…
Nutritional values for 100 grams of Jimini's "Le criquet au Paprika":
Energy : 334 kcal ; Fats : 22grams (Saturated fats : 5.5grams) ; Carbohydrates : 9.2grams (Sugar : 1.8grams) ; Proteins : 24.4grams ; Salt : 4.3grams.
Nutritional values for 100 grams of tortilla chips:
Energy : 504 kcal ; Fats : 26grams (Saturated fats : 2.1grams) ; Carbohydrates : 59grams (Sugar : 3grams) ; Proteins : 7.1grams ; Salt : 2grams.
Useless information : If you find your grasshopper too spicy, it's because of the capsaïcine, the active component of the chili pepper!
---
Not only a snack…
With their delicious taste, crunchiness and interesting nutritional values, it would be a shame to eat these grasshoppers only as snacks…
I tried to incorporate "Le criquet au paprika" of Jimini's in several recipes and it improved different preparations!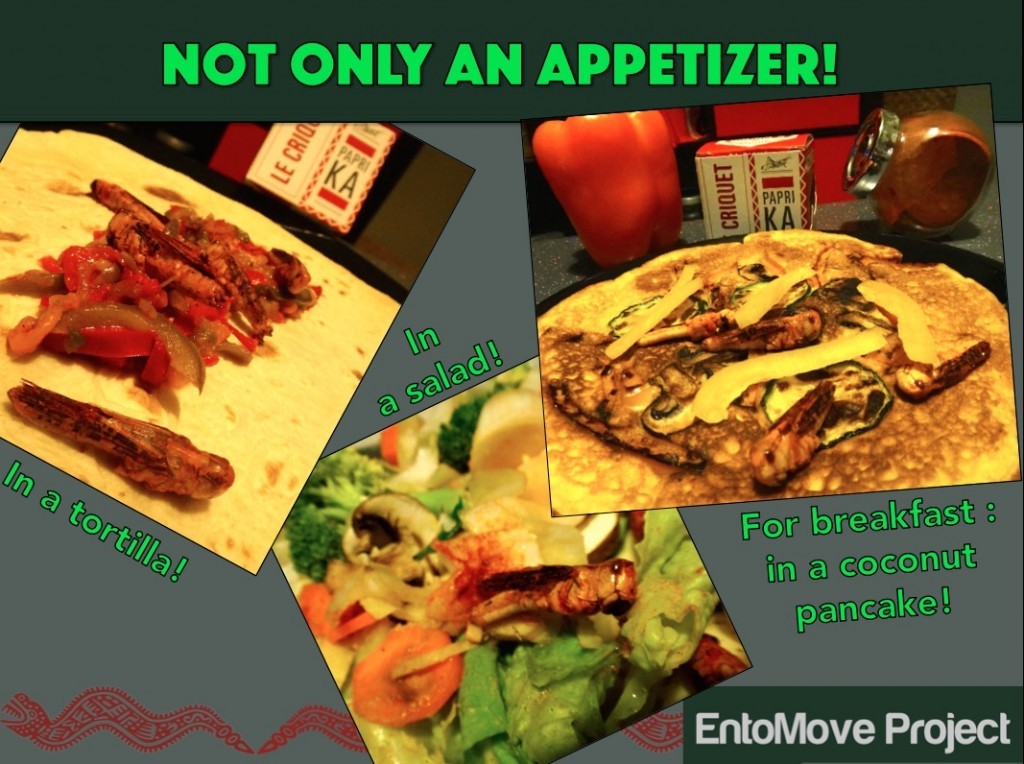 ---
---
Conclusion
For the conclusion, I will speak for my entire family! We were all conquered by this snack, my boyfriend's sister simply said : " Now, I know what I'll bring for the Apéro!". It's simply delicious, crunchy and more than an amuse-bouche. "Le criquet au Paprika" can also add some spices and nutty flavor to your pancakes, salads or tortillas!
We will soon taste another Jimini's product "Le Criquet à la Grecque" and this time I will make a more global personal conclusion about the Jimini's products. Am I now convinced by the "Apéro?" Stay tuned, it will be in the next chapter!
---
BONUS : The amazing wrestling fight : "Le criquet au Paprika" VS "The Tortilla Chips"
You were waiting for this fight all your life and here it comes… But before starting, here are some facts for introducing the fighters :
"That's dumb, because the Paprika's locust is not Mexican at all, it's a french product!" Well neither is the Tortilla Chips! It has been created in the 1940's in Los Angeles.
"Whoa, the locust has no chance, he's too young and fresh, he can't stand against the pure experiment corn" The reality is that Orthopteran appeared on earth about 250 Millions years ago, and locusts look more or less the same since the last millionth year. On the other hand, the ancestor of the corn, the teosinte is only aged of 9000 years and it became the corn we are use to know only after hundreds years of selection and cultivation. So, it's a pure pre-Jurassic creature against a little tiny teenage mutant!
Enough talking and let's get ready to rumble! Grab some grasshoppers, sit comfortably and enjoy the fight!
---
Well it's already the end… I hope you had some fun and you liked this tasting review. I'm sure that now you too will want to bring some "Le criquet au Paprika de Jimini's pour l'Apéro"!
See you soon for a new tasting review. We will stay with Jimini's, but this time, we will leave Mexico and go to Greece!
Take care!
Florian