Product review : "Le criquet à la Grecque" from Jimini's
Hello everyone!
Today is the second review of a "Jimini's – les insectes comestibles" product. We will leave Mexico, but we will stay in the sun for : "Le Criquet à la Grecque".
Great news for today : I'm not alone, I share some locusts with my direct ancestor from Ancient Greece "Florianus Acridophagus"! He's a nice guy (well normal, that's a previous version of me…) but he sometimes makes some anachronistic quotes…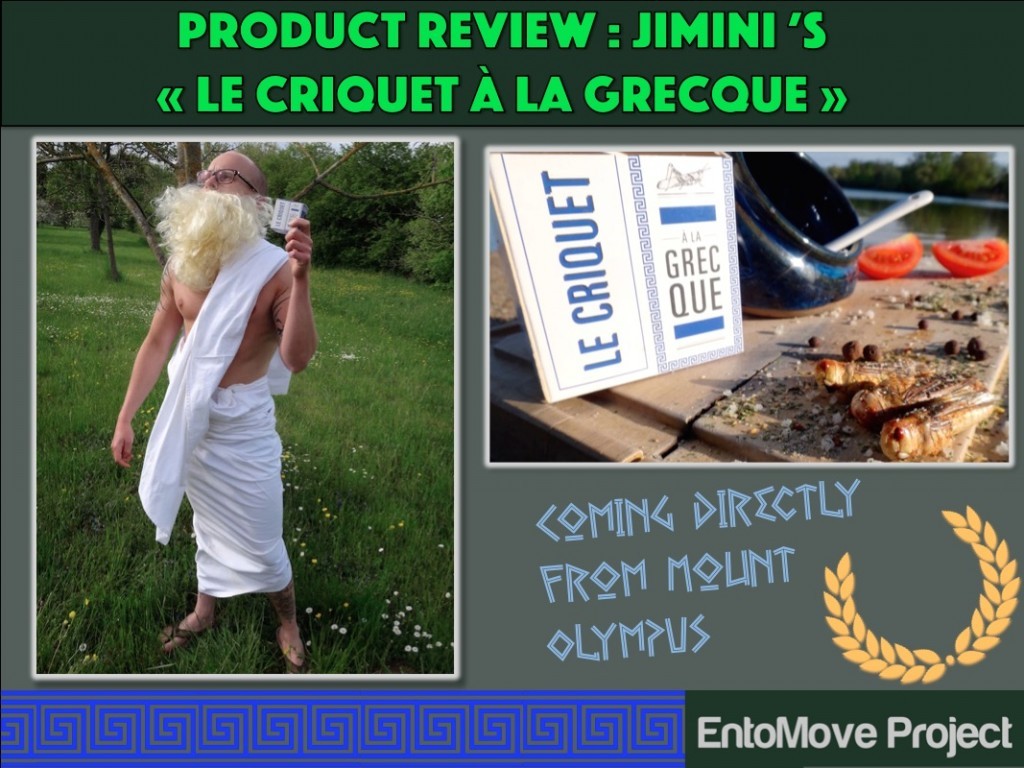 Before starting, if you missed the first review, it's just here for Jimini's : "Le criquet au paprika", you will find there more informations about Jimini's and their products!
I will also make some personal general thoughts about the Jimini's products. (I have some "Compulsive buying disorder", I also bought some of their seasoned mealworms…)
---
The packaging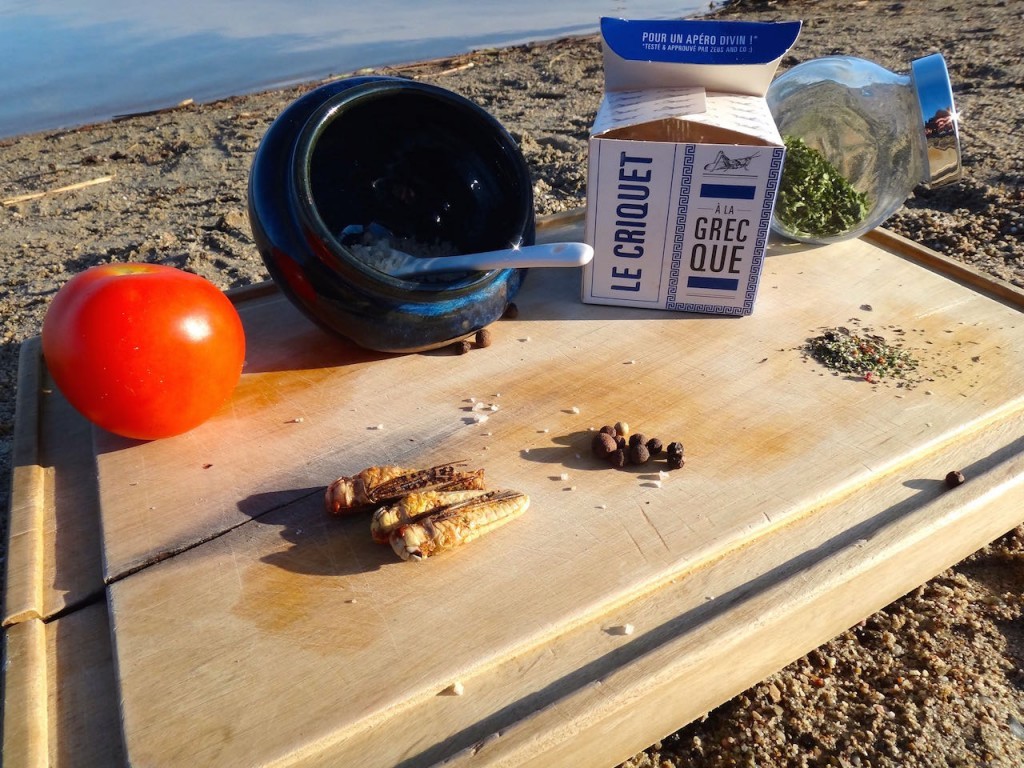 Like I said previously, this little cube is very appealing and functional. Everything needed is on this blue box!
The box contains 10 grams of products, that represents approximatively 15 strong locusts. So Hercules can eat one locust for each labor and keep 3 for the "apéro"!
Jimini's do the things profoundly, they have thought about the little details! The catch phrase on the strip is adapted for this recipe and the decorative frieze reminds us the Greece.
I was very happy to find, at the bottom of the box, a little sticker with a funny phrase on it: "No friends? Take a grasshopper!". As I also found one in my mealworms box, was it forgotten in the "Criquet au Paprika" ? (My ancestor just told me to bring them before the court…)
"The broken locust mystery" has been solved : When I went to the local shop, the locusts and the mealworms were all in perfect shape. So, they were broken during the shipment. By the way, I almost forgot : You can find some Jimini's product in Strasbourg!
---
Tasting review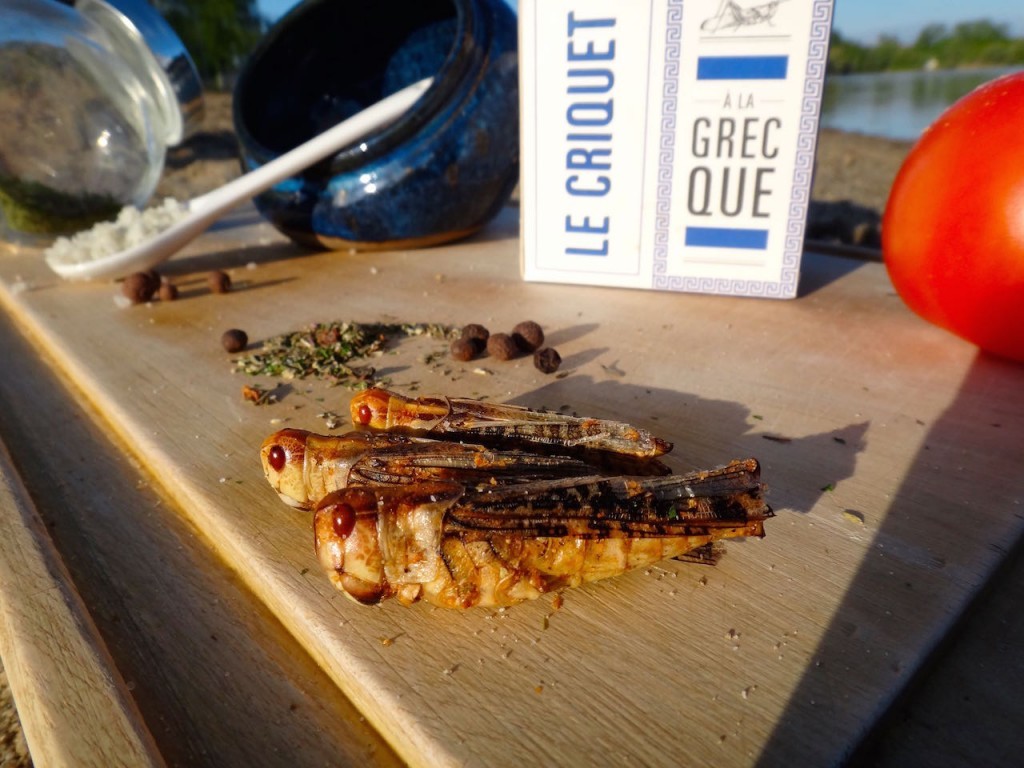 The recipe is simple but delicious : Some beautiful locust, marine salt, thyme, oregano, pepper and tomato powder. Approved by Zeus!
Visually, the locusts are more beautiful than Apollo. They have a nice grey color with red eyes shining like ruby.
At the first bite, we tasted a strong and appealing flavor of marine salt and then all the spices and the crunchiness swept in our mouth like the waves of Poseidon.
My ancestor and I have the same opinion about this product : (He's amazing, he's able of using quotes of the 18th century!)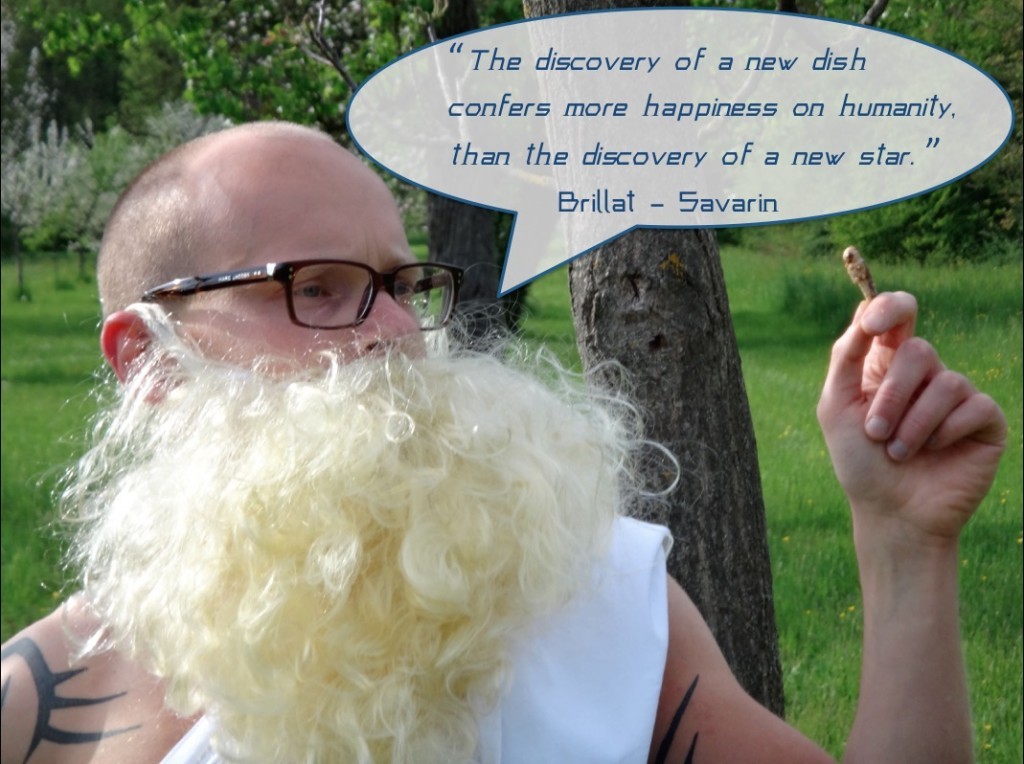 With all the Jimini's products we have tasted, we found that each of them has a real and strong identity but we can't tell which one we had prefered…
---
Nutritional values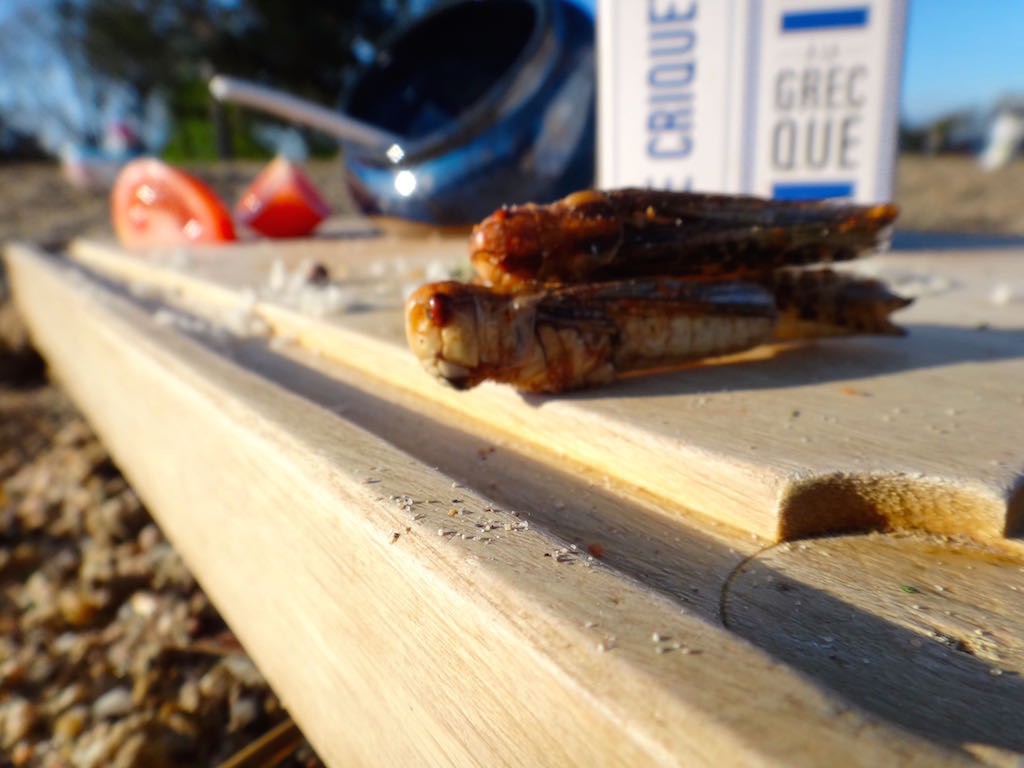 The Jimini's products have been made as an original and healthier alternative from peanuts and potato chips for the cocktail hour.
Nutritional values for 100 grams of Jimini's "Le criquet à la Grecque":
Energy : 353 kcal ; Fats : 18grams (Saturated fats : 6.2grams) ; Carbohydrates : 14.7grams (Sugar : 6.1grams) ; Proteins : 31.7grams ; Salt : 14.9grams.
Nutritional values for a box of Jimini's "Le criquet à la Grecque":
Energy : 35 kcal ; Fats : 1,8grams (Saturated fats : 0,6grams) ; Carbohydrates : 1.5grams (Sugar : 0.6 grams) ; Proteins : 3.1grams ; Salt : 1.5grams.
So, if you eat 1 box alone, you will have less than 2 grams of fats and 1 gram of sugar. But you better choose to share them, if you don't want to generate the anger of Hades…
Florianus finds that the size is perfect for a healthy and enjoyable snack :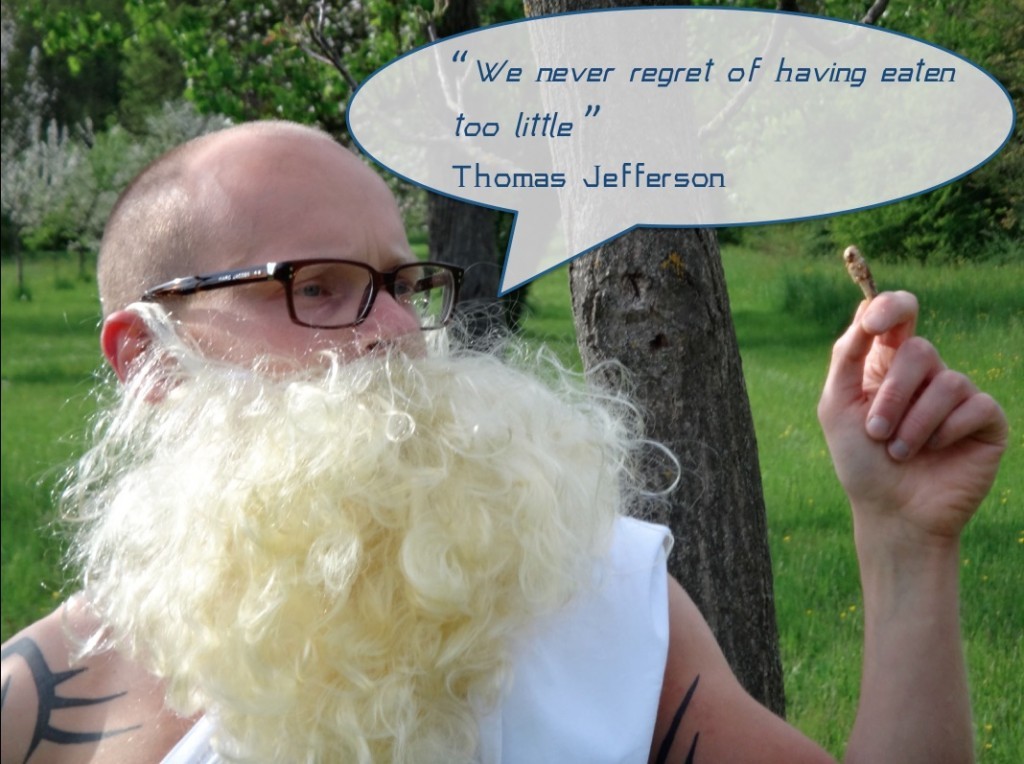 If you follow a low sodium diet, it would be wiser for you to choose their other recipes. "Le criquet à la Grecque" may be too salty for you.
---
What you can do with "Le criquet à la Grecque"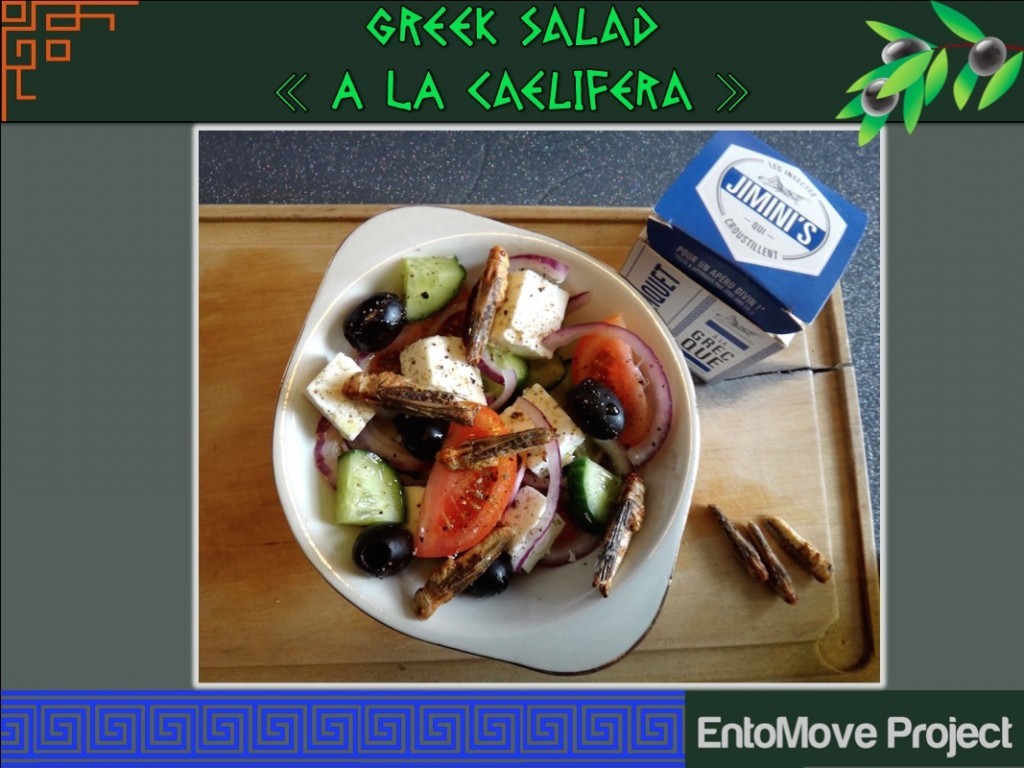 Like for the previous product, I think that this seasoned locust can be very interesting as an ingredient for cooking. For so, I tried to incorporate the Jimini's "Criquet à la Grecque" into a greek salad.
It's a really simple and easy to made recipe for a lot of pleasure, crunchiness and some sun! Here is the list of the ingredients I used :
2 tomatoes
1/2 cucumber
50 grams of feta
5 olives
Some red onion slices
A half box of Jimini's "Criquet à la Grecque"
Some olive oil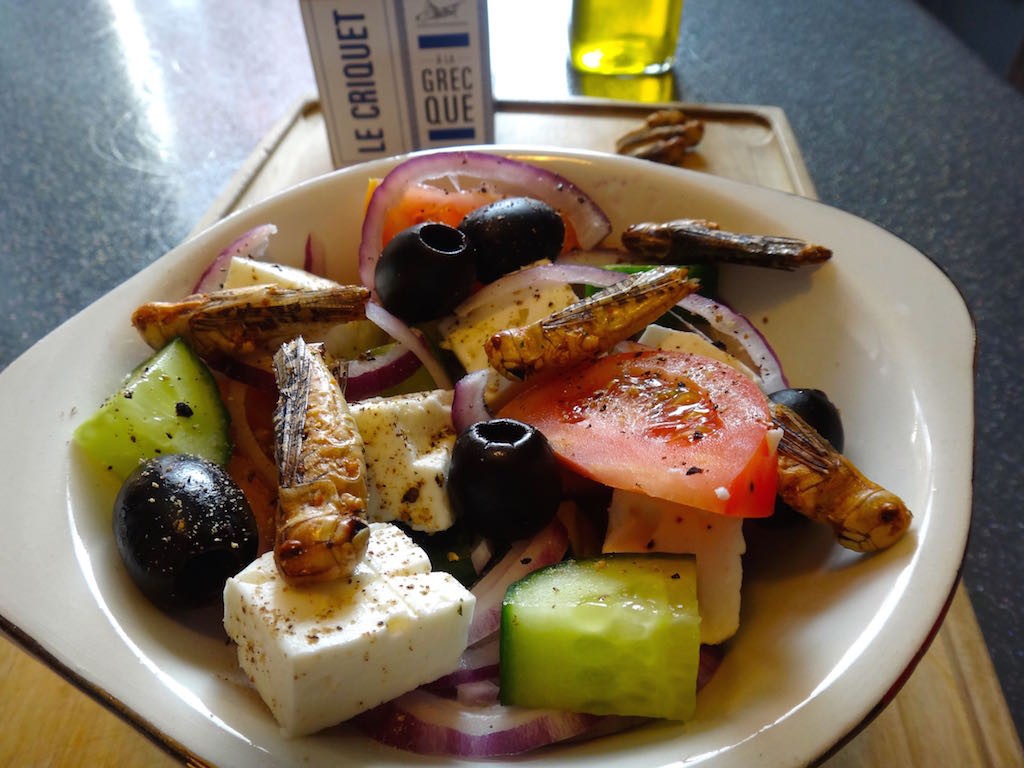 I personally loved the result! Adding some locusts into this salad improved the salad in many ways. Visually, I find it more appealing (or at least original!) and add some new colors. The natural nutty taste of the locust and the special seasoning go very well with the other ingredients and improve the taste. The crunchiness add a new texture and some sounds to the salad.
---
Conclusion
We definitely liked this product! We found that the seasoning are well balanced and the locust is a good primary product. With the Jimini's products, we have found a new alternative for the "apéro", the only problem is which recipe to choose?
I will let Florianus conclude about the "Criquet à la Grecque" :
In Greece, we preferred cicadas and cossus larvae and we didn't eat many locusts… But that, that was before Jimini's.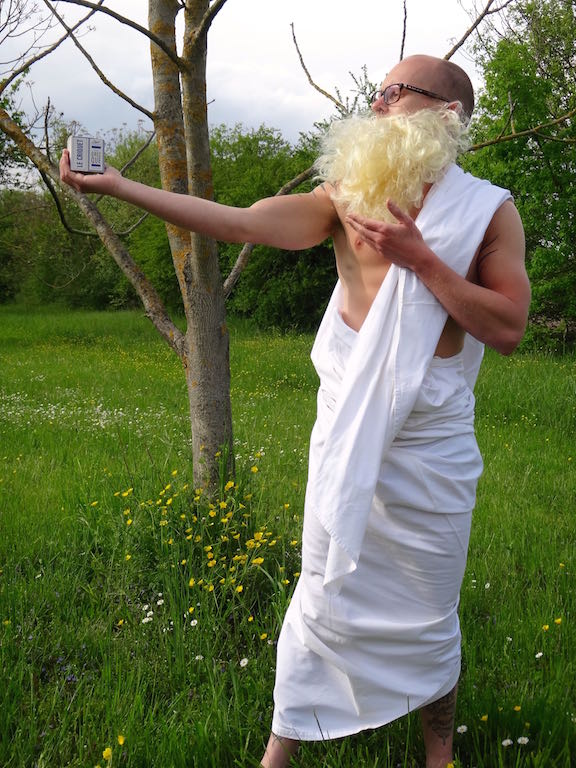 If you too, want to try these products, you can order them on their official website : Jimini's : les insectes comestibles
---
My personal thoughts about the Jimini's products
I will simply say that for me Jimini's products represent "a sustainable apéro". When you bring these box at a party, people want to try and instantly everybody is talking about nutrition, environment and food in general. I think that the relatively small content of a box is an advantage, you want to enjoy each "Criquet" or "Molitor" so you are more aware of what you're eating.
In a big bag of potato chips, there is a lot of air but in a little box of Jimini's there is definitely much more than crunchy insects!
With these words, we will leave each other for the moment, take care and see you soon!
Florian