Product review : I tasted some cricket flour!
Hello everyone!
Ipromised you a review for this week, so here we are. I finally tried some cricket flour… In the US, the cricket flour can be considered as the "bug-gate" but here in France and mostly in Europe we can't say that cricket flour has the same success… (I think the reasons are more a matter of technic, legislative and rearing issues that a difference in taste)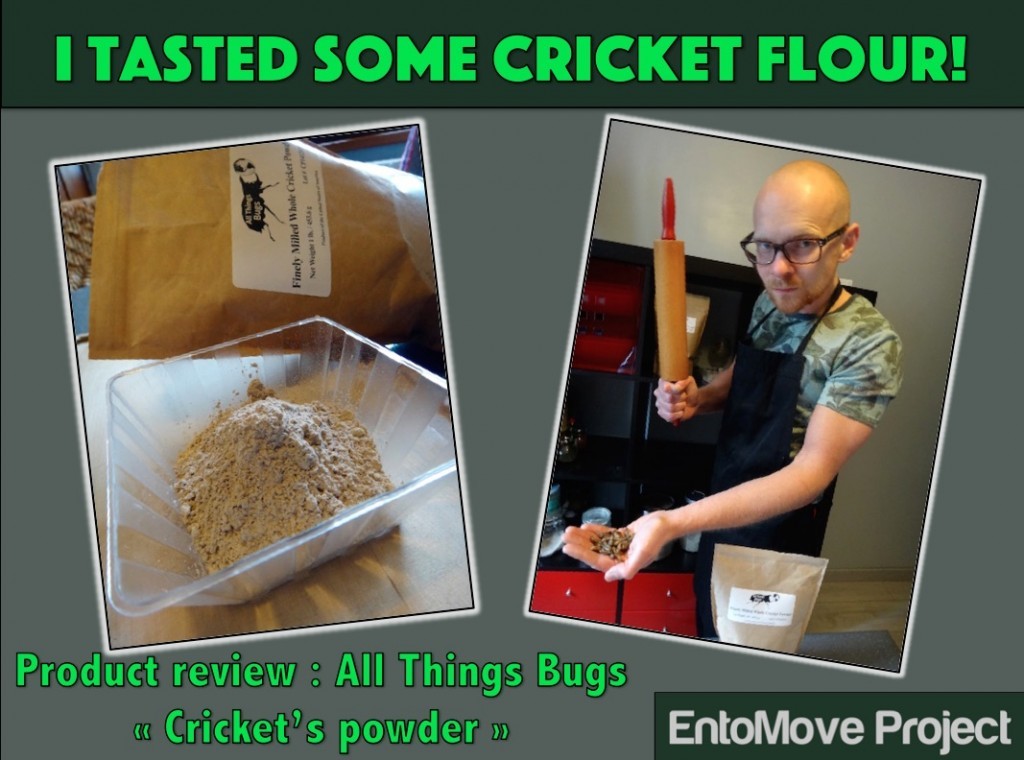 We can even say that's it's almost impossible finding some cricket flour coming from Acheta Domestica for the moment here. For so, I feel very honored and happy to try some and sharing my feelings with you. The cricket flour tasted today is from All Things Bugs and come directly from the USA.
As this is my first cricket flour experience, I will also talk about this kind of products in general, my first impressions and trials.
This can't be a real review because I have clearly nothing to compare with it… I could compare the Chapul bar with some other energy bar, and the other products together. But, cricket flour is really something other and can't really be compared with something else. This cricket flour will instead be a sort of personal standard for my next review… (You always remember your first experience!)
Enough talking, let's go for a new into-adventure!
---
Can cricket flour be considered as a traditional flour?
Let's start with something important for avoiding some misunderstandings… According to "On Food and Cooking, the science and the lore of the kitchen" (Harold McGee,2004) (btw this book is amazing!) :
"The English word "flour" arose in medieval times from "flower", meaning the best part of the ground grain: that is, the portion left after screening out the large particles of germ and bran."
So as we just read, flour is typically made of grains (or at least something vegetal!) and in our case it's pure grinded crickets…
As the products are totally different, so the properties and uses are. "The various textures of baked goods and pastas are created by their structures of their doughs and batters. Those structures are composed of three basic elements :
water
the flour's gluten protein
its starch granules (Harold McGee, 2004).
Info : In grain-free baking flour, the elastic properties of the gluten can be replaced by xanthan gum.
The composition of All Things Bugs cricket flour is 100% of ground crickets. Crickets contains no starch and no gluten so if you mix it with water you have very few chances of obtaining a dough (DIY, I personally don't want to spoil my precious!)
Literally , cricket flour is something like dried and grind meat (which is in the same order of price)
Now that's said there will be less confusion, so we can begin!
---
The company
All Things bugs is specialized in the manufacture and processing of cricket flour (which he very genuinely call "cricket powder"). The company is based in Florida, started in 2011 and only use farm-raised crickets.
Even if I loved the product, I have to admit that the website and the marketing aspect can be disconcerting… If you're visiting this website for the first time, you could be discouraged even if the product is good. If you want to order some this product, it's here :
The packaging
You surely have noticed that I always give some special consideration to the packaging. For me the packaging and the unboxing are an integral part of the experience. During the tasting, the packaging is often still in front of our eyes, it goes from hand to hand, and can maybe even read. Well here it's flour, so it's a little bit different…
In this particular case, I will only say that the paperboard is resistant and of good quality. Even if the little plastic window on the front is here to show the high-quality product, I'm a little bit afraid by its durability…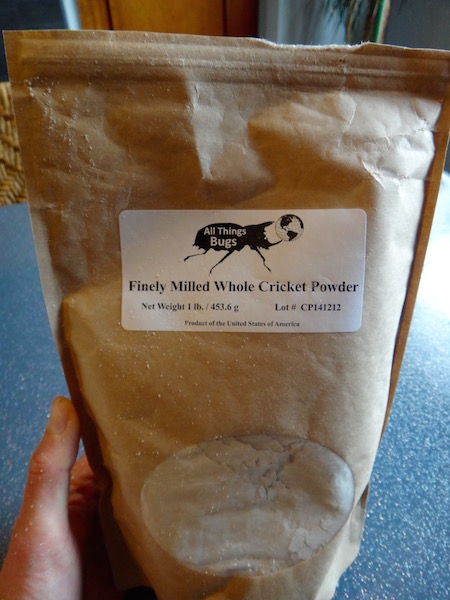 As you won't use the 1LB bag at a time, the bag is hermetically resealable (unless you're doing a mega pancake-party!)
The nutritional facts available are precise and complete, but I couldn't find any mention about the allergen nor any shelf-life. (I think that the crickets are farmed in the U.S, it would may be positive for the customer if it was written)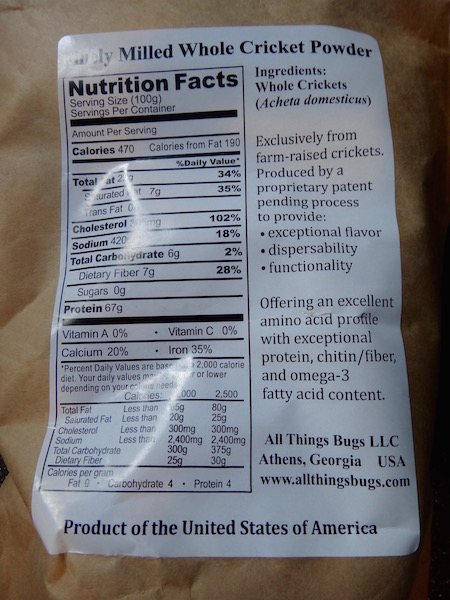 ---
The nutritional facts
For a flour, the packaging is not the most important thing… But adding some cricket flour to a preparation must have some nutritional benefits…
Replacing 1/3 of wheat flour by cricket flour in your preparation, increase its protein content by nearly 3 times and will add a new set of flavors.
This intake of proteins will provide some satiety and will lead to, for example, a lighter dinner.
---
Why and how use cricket flour?
The cricket flour can be added to any traditional flour at a ratio from 1/4 to 1/3.
From a nutritional point of view, adding some cricket flour is adding a large pack of a complete and highly digestible source of protein, some vitamins and minerals to your preparation.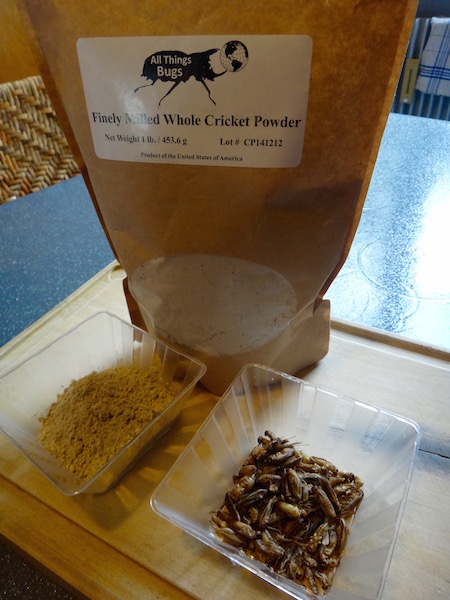 From a tasting point of view, adding some cricket flour, add a new and delicious variations of taste into your preparation.
From an environmental point of view, the production of insects protein has less environmental impact, emits fewer house gases, and requires less space, water and intrants than the production of other high quality proteins.
It's also an excellent way for introducing entomophagy and crickets if you want to embrace entomophagy but you or your guests are not ready to see insects.
---
My first meeting with the All Things bugs cricket flour
Now, it's real I finally got some authentic cricket flour… My gold dust…
The first thing I noticed after opening the bag was the smell. I have to admit that I was a little bit afraid of the smell, you know, when you're opening a bag of pure grind crickets, you can't really know what you can expect…Finally, it's not unpleasant at all, I kinda like it and will describe it as "different". For me it was a good surprise, and I hope that all cricket flour smell as "good and different" as this one!
The second thing is the texture : That's really a "Finely Milled Cricket Powder". The texture is very smooth and there is no clustering.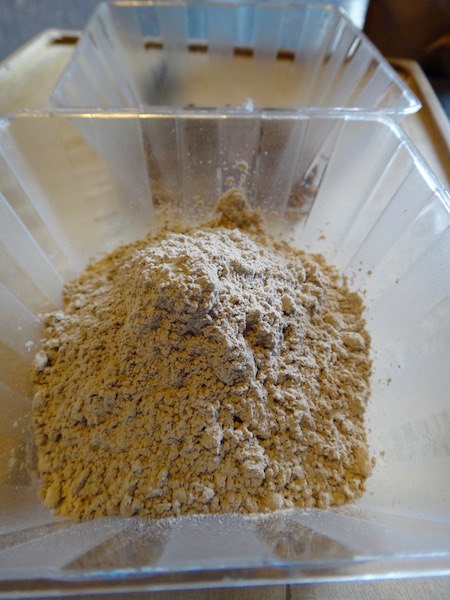 ---
My first trials
Yeah, I know you'll surely be disappointed but there are no recipes for today. (I'm doing a review of a flour without any presentation of a recipe, I'm clearly a champion…). For my defense, I'm still learning how to handle this new amazing product.
The first thing I noticed, it's the miscibility. It mixes perfectly without any lump and that's a very good point.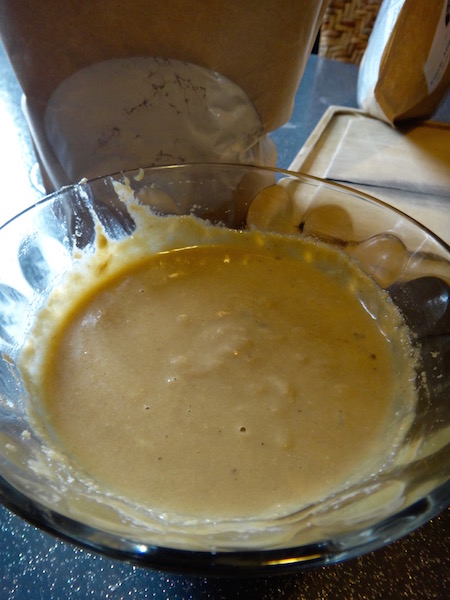 The second thing, crickets are thirsty! The cricket flour absorb a lot of water, so I needed to increase the amount in my different preparations.
I tried some pancakes with coconut flour, and as its taste is very subtile, for the moment my favorite ratio is of 1:4.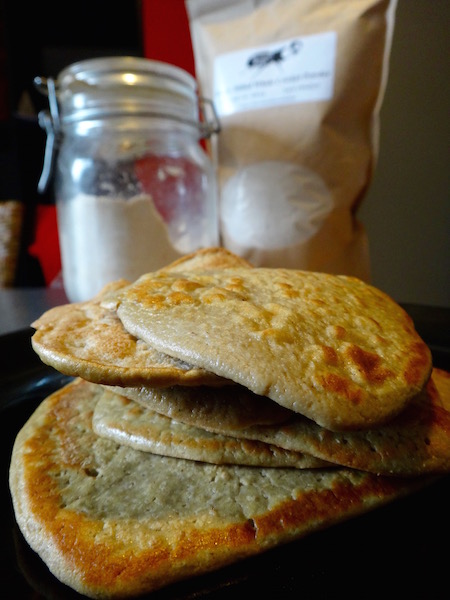 I also made some crêpes (tortilla!) with buckwheat flour and in this case, my favorite balance is 1:3 as buckwheat has a stronger flavor.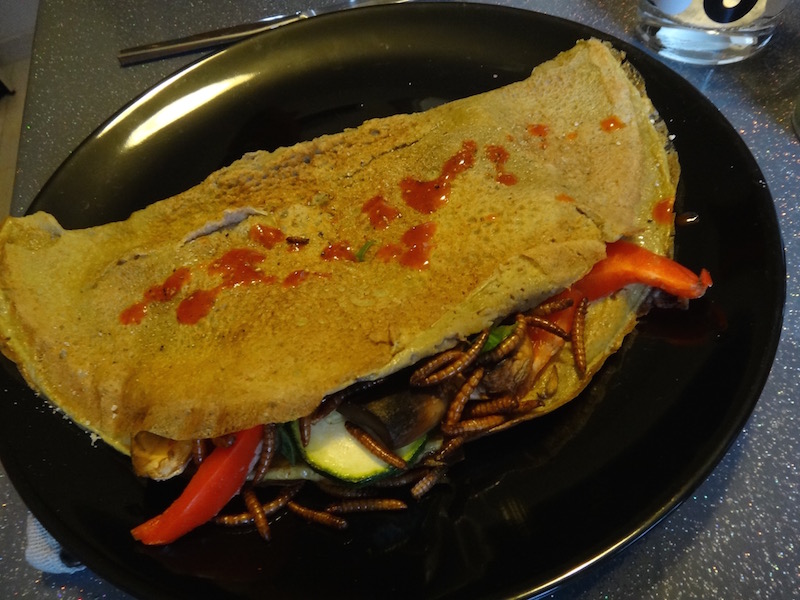 In these 2 preparations, I noticed that the browning occurred sooner and at lower temperature.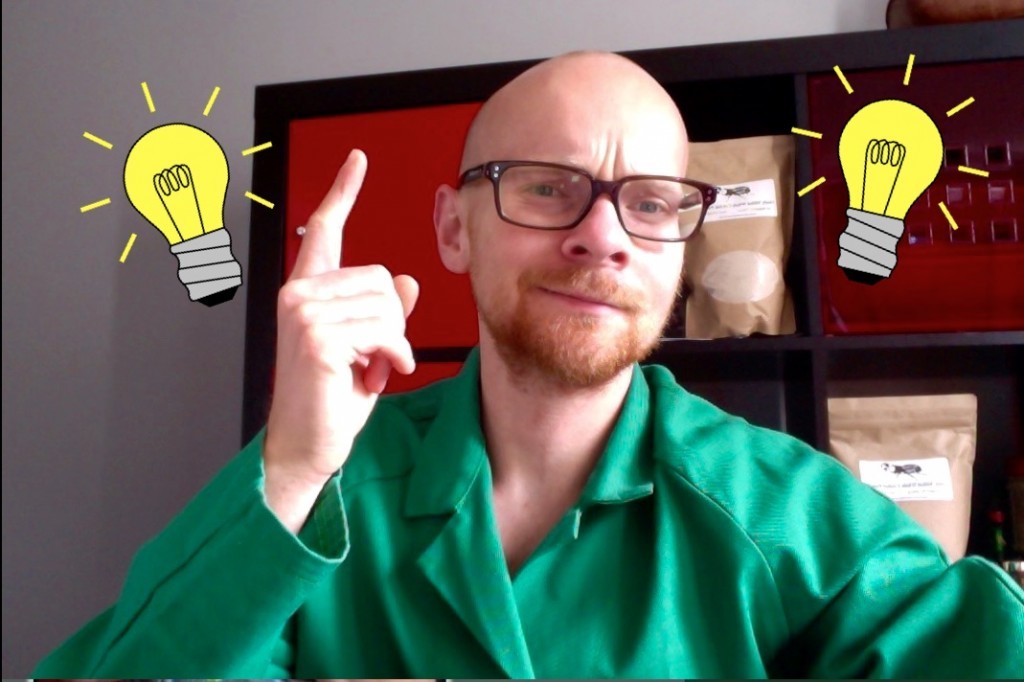 Scientific hypothesis : Cricket flour enrich the preparation in amino acid (especially in lysin), so maybe it has an impact on the Maillard reaction. I'm waiting for your thoughts and ideas about it!
With my super-baking mom, we tried some cookies with wheat flour and orange zest and we noticed something unexpected. For a first time we tried with a ratio of 1:4, the smell of the cookies was very nutty due to the cricket flour but in mouth the orange flavor was a lot more stronger. I think we will increase the ration to 1:3 and lower the quantity of orange zest!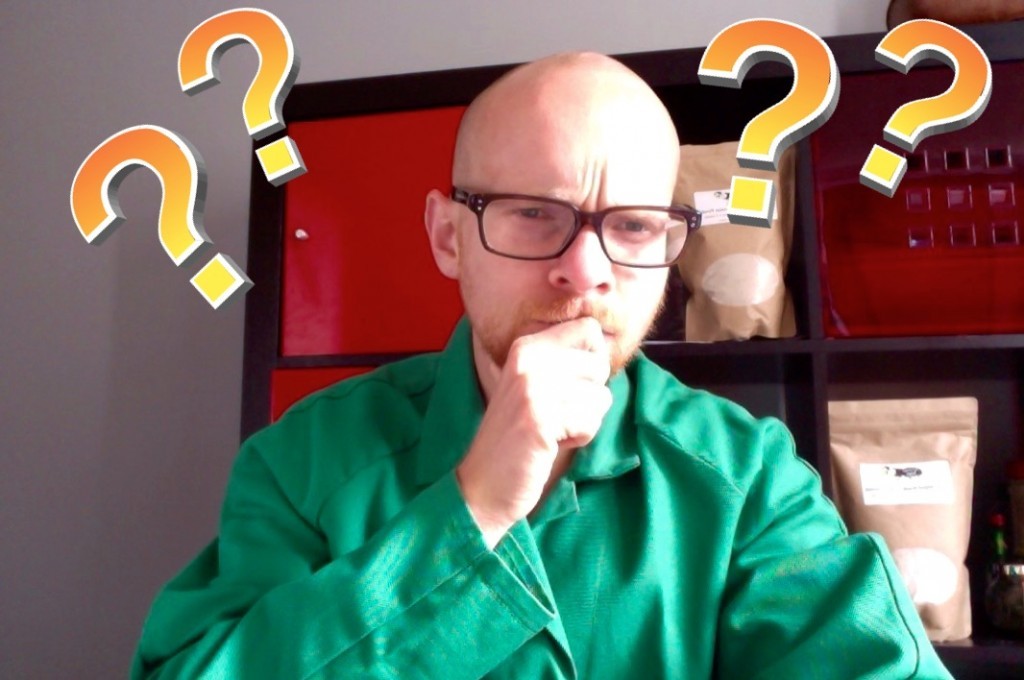 Scientific hypothesis : No idea!
Brace yourselves new experiences and recipes are coming!
---
Conclusion
A lot of the people in the US seemed to be very enthusiast about cricket flour, so my expectations were quite high…
And All Things Bugs convinced me… This first experience was a good one! This product helped me turning this "discovery" into a good experience. Even if I found the marketing aspect and the website not very awesome, this cricket flour should at least be tried. I also personally think that the missing information on the packaging can sadly discourage some customers from a good product.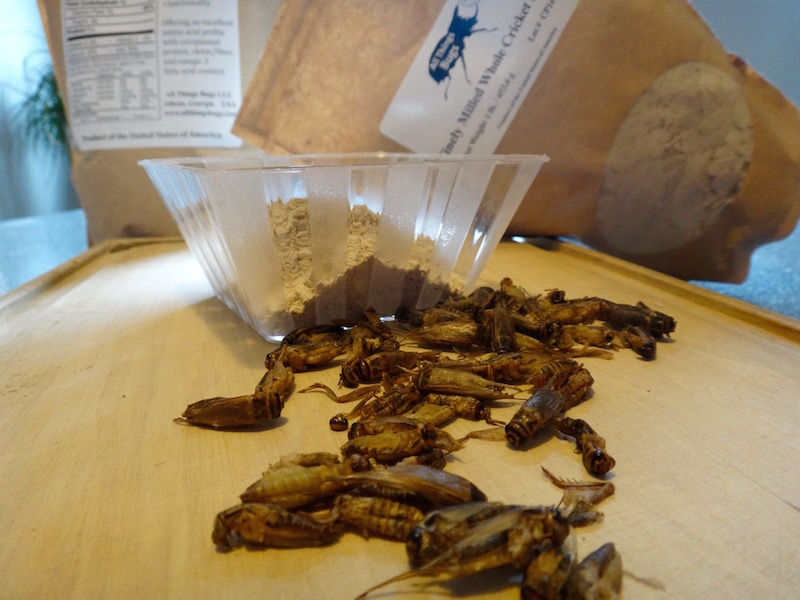 This product has clearly a lot of potential regarding the nutritional, environmental and gustative aspect. It can also be a really interesting "invisible" first insect tasting experience.
---
A
s you surely noticed, I'm now as convinced as you probably are by cricket flour. I could totally add it in my daily breakfast!
(I will try it in savoury recipes, I'm sure it could be awesome too!)
Next saturday, I will do an activity for presenting and promoting entomophagy, wish me good luck!
---
Take care and see you soon!
Florian