Tasting discovery : UkA Protéine bars with cricket flour
Hello everyone!
It's been a long time I didn't try some products… I tasted the UkA protéine bars and it's time to give you my feedback!
I'm very happy to be one of the first European people to try these Canadian bars. I met the team of UkA last year in Montréal and as you'll see in the Youtube review, they did a big hop forward…
---
A Canadian energy bar with some cricket flour
UkA is a Canadian company based in Québec. If you want to visit their website or purchase their cricket flour energy bars, you just have to click on the link! For the moment, only the lucky Canadian are able to order these cricket flour bars, but I hope that soon we will all be able to eat them!
The price seems really fair regarding the quality of the product.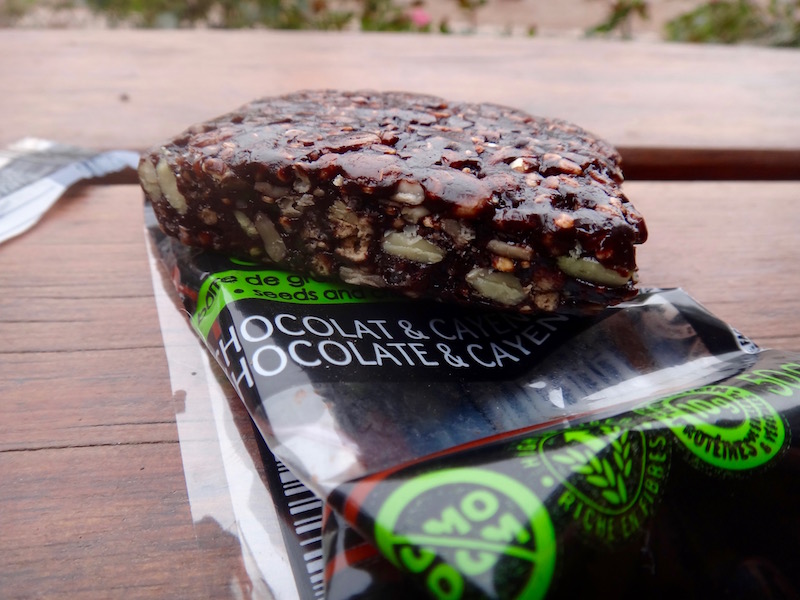 ---
An appealing appearance in a nice packaging
If you noticed the color I'm using for my blog, you will surely guess what I'm thinking about the green and black packaging used for these cricket flour bars…
As you see on the labels, UkA is really serious and try to touch the wider audience as possible. Gluten Free, Dairy free, Nuts free, peanuts free for trying to please everyone and Non-Gmo, high in fiber and high in protein because they're not kidding with quality.
When I opened the package I really liked the original shiny appearance of the bars. This nice and shiny appearance allow us to see distinctively all the different seeds and healthy ingredients inside this cricket flour bar.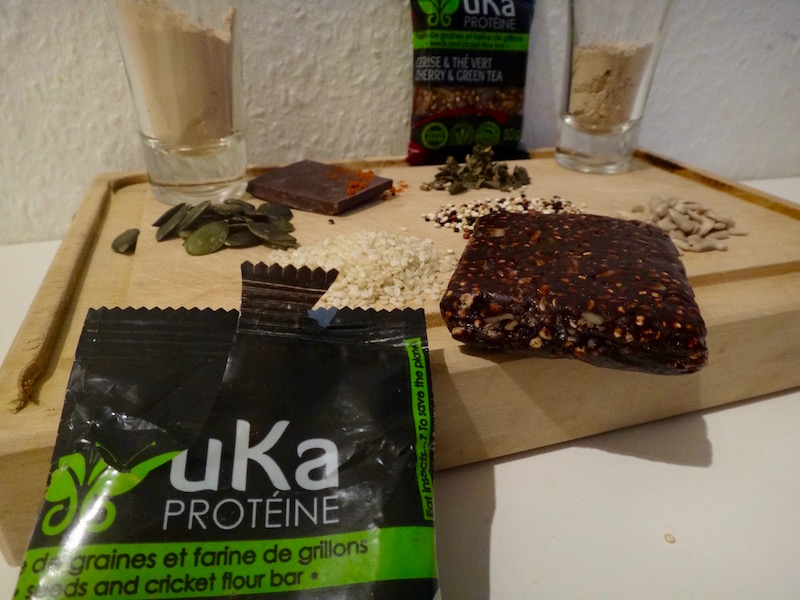 ---
Some cricket flour and a lot of other good things for the taste and the body
In the mouth, the texture is very agreeable and original, a mix between a smooth energy bar and a crunchy granny bar: Crunchy power and smooth energy at each bite.
There are 2 different recipes :
Chocolate & Cayenne, for spicy power
Cherry & green tea, for calm awakening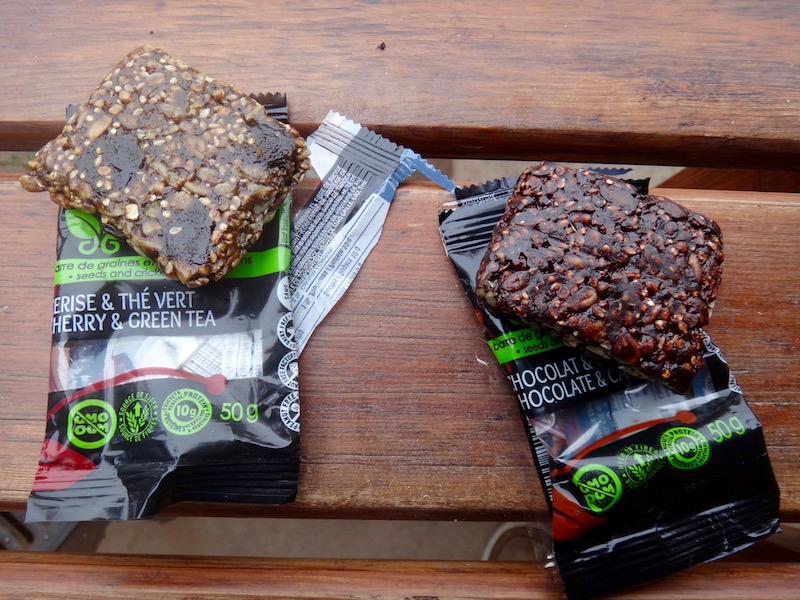 I tried the bars with some friends and we were really pleased the flavors. We found the taste original, authentic and well balanced.
The mix of the ingredients are what gives this special texture and flavor :
A lot of seeds : Sesame, pumpkin and sunflower seeds
Some grains : Brown rice, quinoa
Some insects : Cricket flour
Some vegetal proteins : pea protein, brown rice protein
And a little bit of sweet for sticking everything : Date paste
My friend liked better the chocolate one where the cayenne comes as a powerful spicy second blow. On my side, I preferred the Cherry & green tea that I found more original and unique. In both cases, the mix of seeds, cricket flour and date has a really appealing not too sweet, nutty flavor. And with no food colorings nor preserving!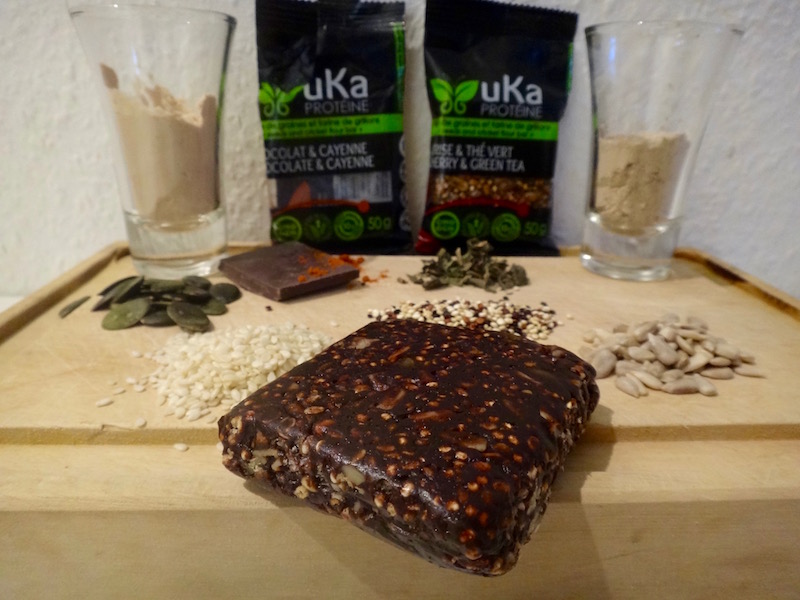 This great mix of ingredients is not only here for the texture and the taste. It's also a good choice for the nutritional aspect. These 50 grams bars contains 20% of proteins and less sugar and fat than other energy bars. For me it's a well balanced snack; a little healthy chirp somewhere between an energy bar and a protein bar.
---
Conclusions
We really liked these bars. I waited some good news from UkA, I got an excellent product!
If I could change something in these cricket flour bars, I would have add some flax,hemp or chia seeds for improving the Omega 6/Omega 3 ratio and add little bit of cherry and tea for empowering the flavor. Little detail, I noticed that some company are specifying which specie of cricket is used in their cricket flour bars.
For ending, these UkA seeds & cricket flour bars were really a good surprise. If you're Canadian, you can try these ones you surely won't be disappointed, and if as we are not Canadian we just have to wait and cross the fingers…
---
Take care and see you soon!
Florian