Learn cooking with a MOOC-No insects on the menu
When your goal is to change the hedonic value of edible insects and you want to learn the different subjects about this topic, learning and obtaining certificate through MOOC's can be a great opportunity. I try to learn cooking everyday by myself through books and videos, watching and speaking with chefs. When I discovered that the French AFPA (Association pour la formation professionnelle des adultes) is about to start a MOOC for learn cooking, I hopped at the chance!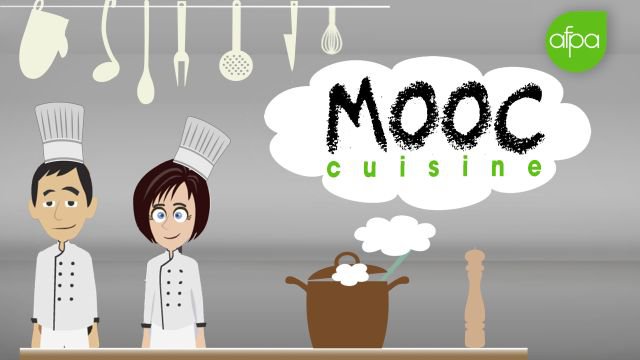 ---
Learn cooking with a MOOC
Tomorrow will start this brand new adventure for me : Learn cooking through an online course. During 6 weeks, everyday, I will have the opportunity to learn cooking via great chefs and certified instructors. Each lesson will longer approximately 30 minutes.
Finding 30 minutes each day could seem difficult but it's approximately the duration of a TV cooking show… Instead of being spectator, it's becoming actor and learning, testing and tasting. If everything is going well; at the end of the 6 weeks I will have a certificate.
Obviously, you can't become the Bug Chef after 6 weeks, but it's still a great opportunity to learn cooking. Who knows, maybe I will find new ideas for creating new recipes with edible insects.
More over, I can't wait to use my iPad for learn cooking!
---
My learning program
Here is the program for the 6 weeks to come (with some little modifications adapted to my diet!):
Week 1 : Learn each other and the kitchen environment. ESPECIALLY the desktop hive for growing your ownedible insects! You can't start learn cooking without some fresh mealworms!
Week 2 : Basics technics for cooking and preparing vegetables. WITH EDIBLE INSECTS
Week 3 : Eggs and sauces Crickets and grasshoppers
Week 4 : Learn cooking meatlworms
Week 5 : How to prepare fish raise crickets
Week 6 : Pastry and bakery WITH CRICKET POWDER
---
A great opportunity to learn cooking
In fact, I'm sure this MOOC will be a great opportunity to learn new cooking skills and meet new people. I will give you some feedback about this experience. I think that it can be very valuable for a first "home step" before taking a full course in order to become a chef.
If you speak french and want to participate : it's free, it start tomorrow and it's here : http://mooc.afpa.fr/
Everybody starts sharing their wonderful pastry recipes, I'm wondering about how they will react if I share some of my recipes… I will give their feedback!