Green spring porridge with mealworms
It's been a while I didn't post some recipe… Today it's spring, a lot of fresh new vegetables are coming on the market shelves. But at the same time, the weather is still cold. So, for today I will prepare a green spring porridge with mealworms . Have a nice day and bon appétit! By the way: I obtained the certificate from the cooking's MOOC.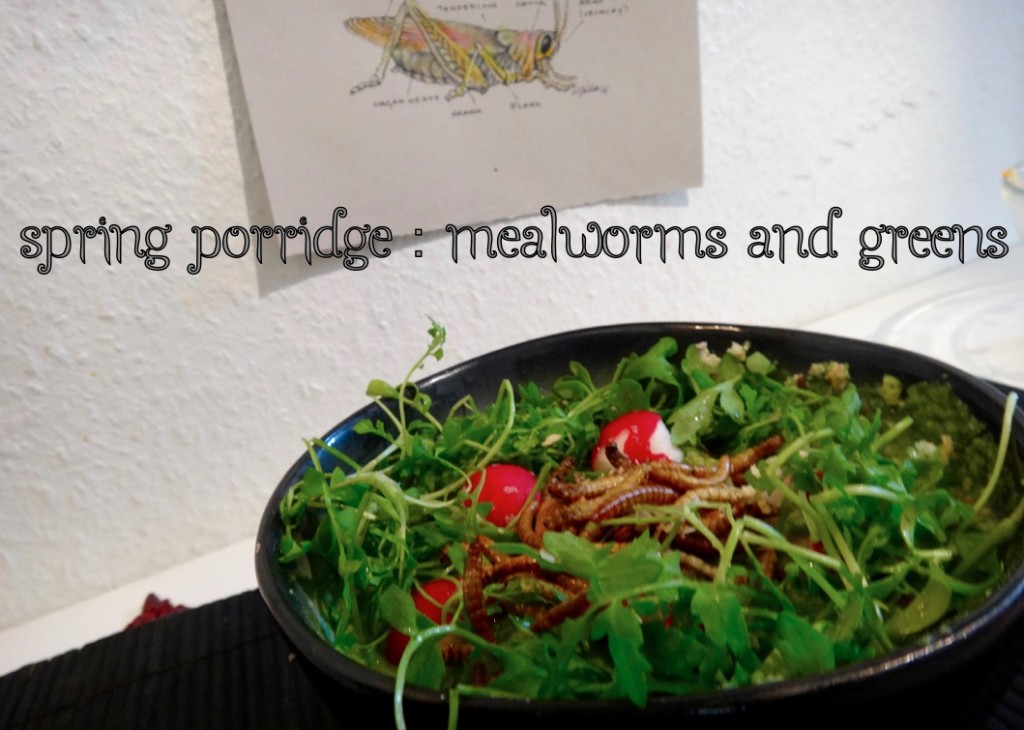 This mealworms porridge is full of colors and taste. Moreover, with the leaves, the mealworms and the buckwheat it's a great source of nutrient, vitamins and minerals. A nice meal to share with your friend and your family. (What a wonderful drawing, thanks again Bug-Chef!)
The chards and the leaves are full of vitamins A, B, C and K. The almond butter will add some sweetness and minerals. The ginger, turmeric, garlic and onions are an aromatic and spicy mix full of antioxydants. The mealworms will add some crunch, proteins and minerals. The buckwheat flakes will thicken the mix and add some fibers.
---
Ingredients (6 serving of mealworms porridge)
Preparation time : 15 min
Cooking time : 20 min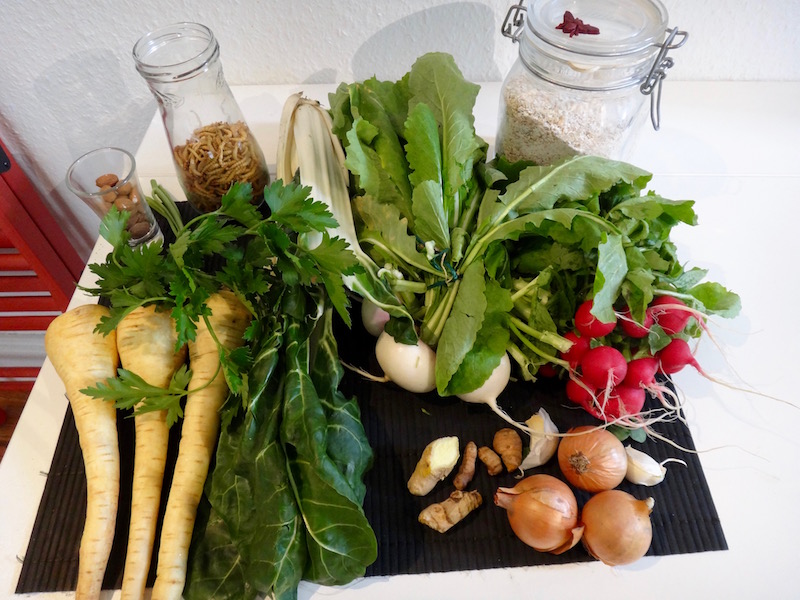 Chards leaves
1 bunch of turnips greens
1 bunch of radishes greens
3 parsnips
150 gr of fresh thawed mealworms (or 60 gr of freeze-dried mealworms)
200gr of buckwheat flakes
3 onions
2 garlic cloves
3 tablespoon of almond butter
Fresh turmeric and ginger
1 bunch of parsley
Nutmeg, sel and pepper
---
Directions
Prepare all your vegetables : Cut and wash the greens, peel the onions, garlic, turmeric and ginger. Cut and peel the parsnips (in small pieces they will cook faster!).
In a pot on medium heat with olive, add the onions, the garlic, the ginger and the turmeric for unleashing the aromas.
After approximately 3 minutes, add the vegetables except the parsley. Add some water. The water must cover half of the vegetables.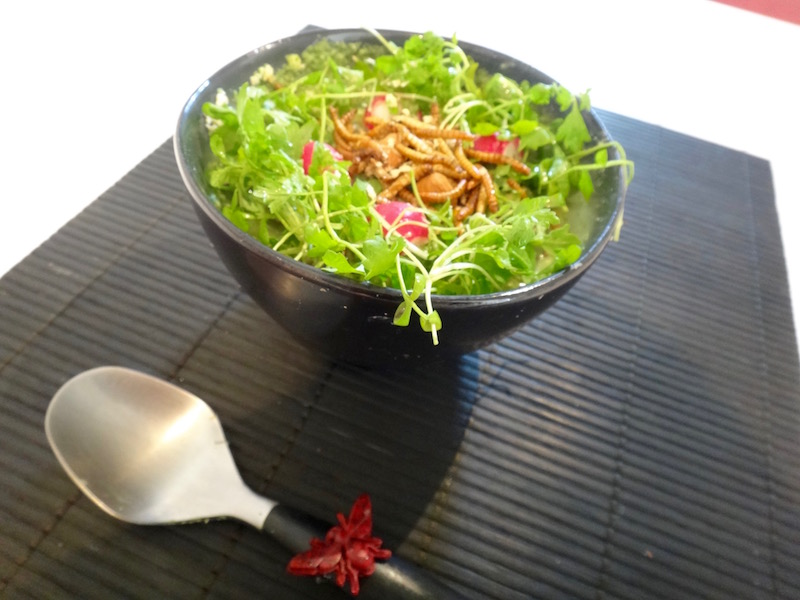 Let cook with a semi-covering until the parsnips are tender.
Put out of the heat, add the parsley and 3 tablespoons of almond butter. Add the nutmeg, salt and pepper.
In a hot pan on medium heat, cook for approximately 8 minutes the mealworms after being rinsed through a colander.
During this time, mix the soup.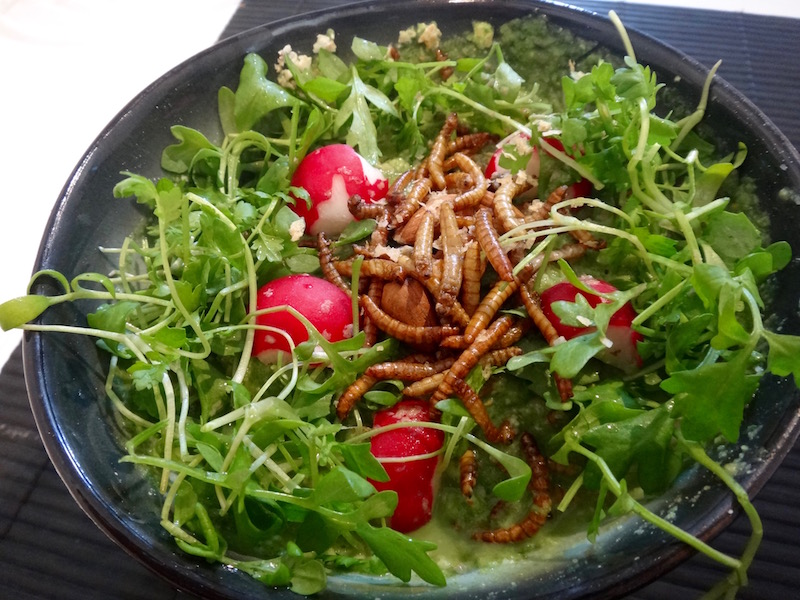 Serve in a bowl, add the buckwheat flakes depending on the desired thickness. Add some mealworms depending on the desired crunchiness. Melt everything.
As a decoration, add some mealworms on top with fresh radishes and watercress.
Bon appétit!
---
I hope you'll like this recipe with these crunchy mealworms and feel energized for the spring!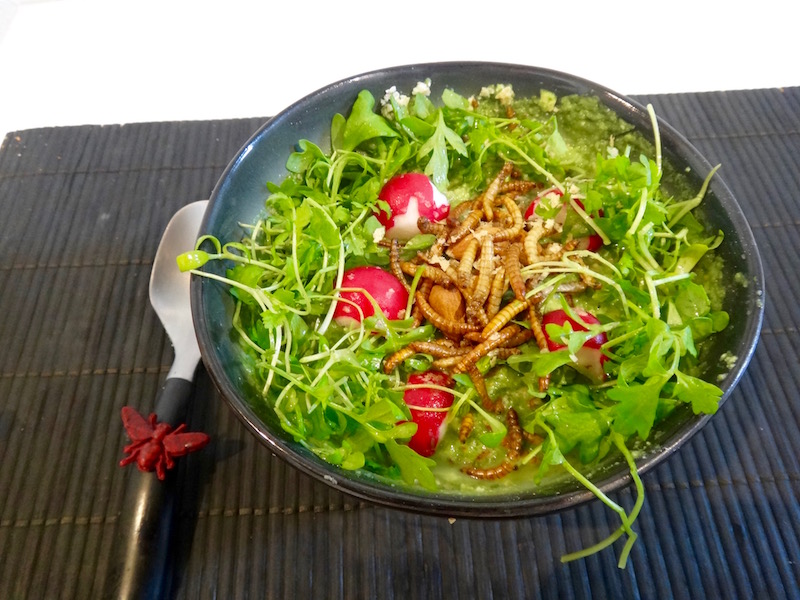 Take care and see you soon!
Florian