An evening with the Bug Chef
This week was very special for me… A few weeks ago, I saw on Twitter that David George Gordon aKa "The Bug Chef" was coming from Seattle to Switzerland. I couldn't miss the opportunity of meeting one of the people who truly inspired me to involve into the field of edible insects. After a little conversation, we found a day for meeting-up, and my father and I were even on his personal guest list for attending at his cooking demo at the International School of Zug and Luzern.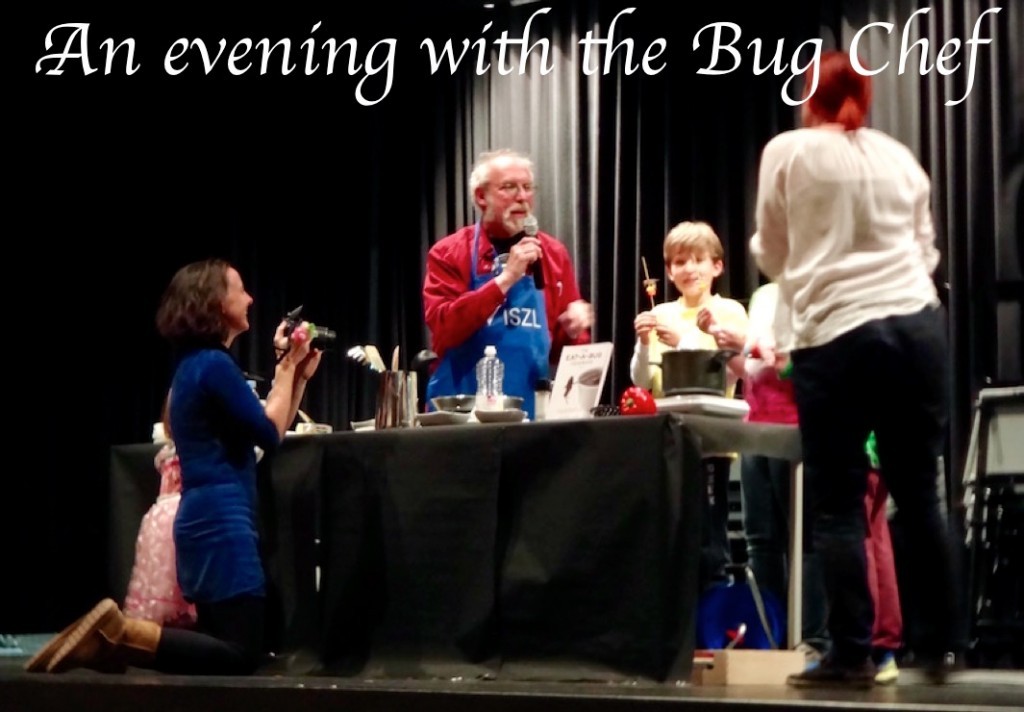 ---
The Bug Chef
As a lot of people involved in the field, the "Eat-a-Bug Cookbook" written by the Bug Chef was one of my first book about edible insects. Not just full of good recipes with a lot of different bugs, this great book first published in 1998, contains a big spoon of science and a pinch of fun.
As soon as I started my blog, meeting David George Gordon, the man who fed hundreds of people and celebrities for so many years with insects, was one of my goal. More than a good naturalist writer and a cook, David himself with his human values is someone that worth to be met. This goal was finally achieved and I even got the opportunity to come with my father and see him in action during his cooking demo.
---
A Bug Chef's cooking demo
After 3 hours of drive (less if I had better planned the trip…), we finally arrived on this sunny 18th of November at the ISZL at Zug for attending at this event.
We got our reserved seats at the first row in the theater, full of hungry and curious kids and parents. Let's the Bug Chef's show begin!
During one hour, he presented some different benefits of entomophagy to an attentive and responsible audience and follows with 4 recipes prepared with the help of this also gourmand public.
With his some little bug chef's assistants genuinely picked in the audience, he prepared some crickets, grasshoppers, ants and finished with a tarantula!
After each preparation, some lucky volunteers were able to try the different meals after the go-ahead of the chef :
Eat it, Eat it, Eat it!
As you surely guessed, the little bug-eaters were delighted with the different preparations. The only "negative review" wasn't related to the bugs :
Mmmmm… Can I have more crickets please, they are delicious! But with less onions I don't really like vegetables
So, if you want to make children eat more vegetables, serve them with crickets!
He finished his funny and instructive cooking demo with a deep-fried tarantula spider. For this final tasting experience, 8 people were invited on stage. 1 leg per person! After that, some insects were offered to the happy and hungry audience.
It was really cheerful to see all of these children, the future generation, curious and interested about entomology, food and environment. (This is for you, little girls and guys that we are fighting each day for trying to develop the sector in a right way…) We also need to admit that David's enthusiasm and experience must have something to do with this new interest…
The show is over, it's time to share a drink with David and his wife Karen. We were accompanied by Christian and Adrian from Essento, an "Ento" Swiss company, who also travelled to see the Bug Chef.
---
A drink with the Bug Chef and Essento
We decided to go in the center of Zug, which is a lovely city, to drink a glass of wine together. I was also really happy to finally meet Christian and his friend Adrian from Essento. Christian is also working really hard for developing the field, he co-created the really useful entocall.
During this (too short) hour, we turned our wine degustation table into an ant & beer and grasshoppers & wine buffet and had some warm conversations about our experiences, expectations and perspectives. Karen spoke about her beautiful illustrations, Adrian and Christian explained the "deliciousness" of insects and David shared his fascinating experiences. My father didn't miss a single word of the conversation. Sadly he doesn't speak well English, so he wasn't able to share with us his long hours spent taking care of our insects. I will make him this honor during our next comity.
The time of farewell came too soon, our mini-summit split, our Swiss friends needed to catch their Zug (train in german), David had a long day and my father and I had still 2 hours and a half of driving…
Before leaving, David signed my copy of the "Eat-a-bug" cook book and offered me his new book, Karen gave us some of her illustrations and Christian shared some papers about his project. Now, it's time to leave but like we say in French : "Ce n'est qu'un au revoir"
---
I
t's almost 1AM and I'm finally home. Oh, I forgot to look what David, one of my bug eating hero, wrote in my book… "
To Florian, One of my bug-Eating Hero
"…