Eating insects in London – Archipelago & Nightjar
Hello everyone!
As you maybe now if you follow me on Facebook, Twitter or Instagram, I was quite excited about spending a week-end in London.
Even if eating insects wasn't the main purpose of my visit there, I needed to try some British edible insects. I found my happiness by eating insects in London during a diner at the Archipelago and the next day by drinking a cocktail at the Nightjar.
Obviously, the title of this post is "Eating insects in London" and I will give you all my feedbacks and feelings about these 2 great experiences (and in bonus an incredible story that will make eating insects totally common!)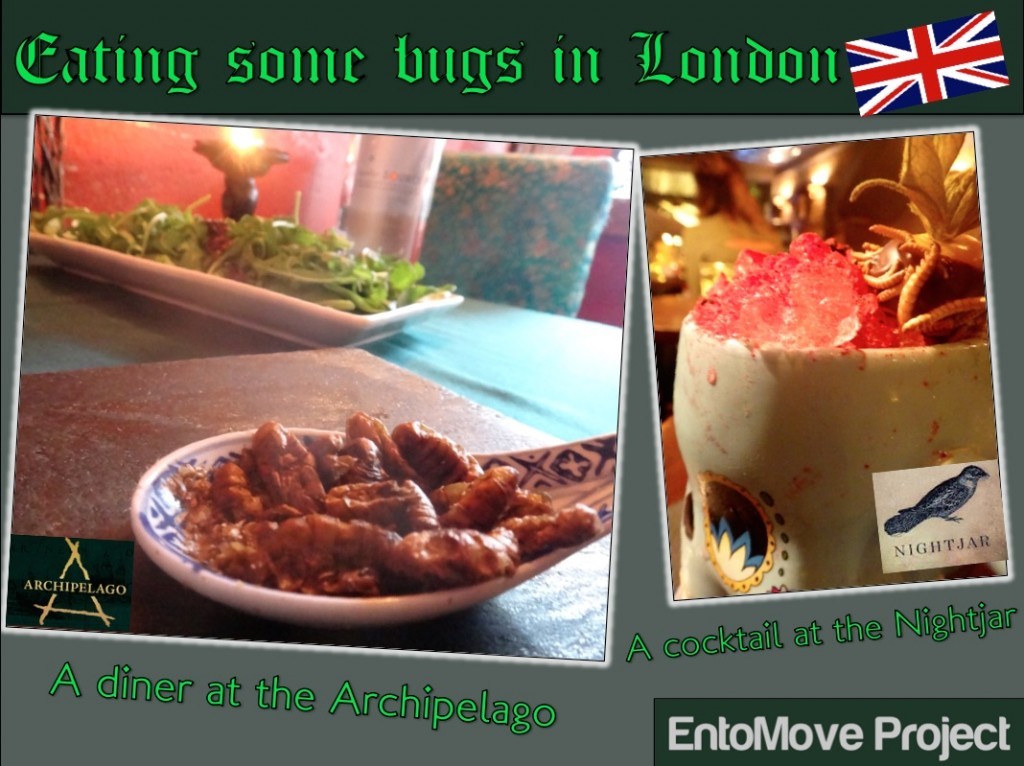 ---
Eating insects in London, Part 1: A diner at the Archipelago
As soon as I knew that I was going to London, the first thing I did (even before booking a room, the are some priorities in life : bugs in the belly before a bed!) was booking a table at the Archipelago.
This restaurant is located in Fitzrovia in the center of London and it's goal is to make you "explore the exotic". You can't miss it in the street, there is a burning torch on the front door. They are serving a lot of different exotic and non-common foods (for Westerners) such as kangaroo, bison, zebra or insects. You must know what I chose…
I found the general ambiance very exotic but also very classy! The decoration is really beautiful and must come from all around the world. There is a little music which suits really well with this place. Special mention for the menu printed on old parchment depicting a world map.
---
As a starter, I chose the "Sumer Nights". It was composed of pan fried chermoula crickets, quinoa, spinach and dried fruits. This mix was very original and wonderful. The chermoula marinade, the spices and the dried raisins reminded me the North-African couscous and was perfectly balanced by the nutty flavor of the quinoa and the crickets.
The smooth texture of the spinach covering the crunchy fried crickets was a really great experience in mouth. I was in a Aztec temple in the middle of the Sahara Desert, it's like I could hear the crickets chirping…(For the ento-nerds : the crickets were some Gryllus Bimaculatus raised in Thailand)
---
For the main course, there weren't some insects so I chose the "Baltic Catch" which is hot-smoked escolar fish steak with a tofu-chorizo & potato muddle. This time, it was a first time for me and this was a really great experience, it's a white fish but rich and tender as salmon that suited very well with the sweet butter powder and the vegetables.
But because of my strong appetite for bugs, I chose 2 side dishes : "The love-Bug Salad" and "a sprinkle of seasoned silkworm pupae". This side dish is composed of rucola salad with fried mealworms, grasshoppers and crickets. I liked the salad and it must be really a great experience for a first time, but you must know that eating insects in a salad is quite common for me. (Bug-maniac time : The bugs in the salad were Tenebrious Molitor, Gryllus Bimaculatus and Schistocerca Gregaria.)
---
For finishing this delicious meal, I chose the "Medieaval Hive" composed of brown butter ice cream, honey & butter caramel sauce, some honey comb, bey brood and a honey infused bee. The dessert was just wonderful! The sensation of the ice cream with the hot caramel butter sauce, the butter brown sugar powder and the bee brood can't be described. (My mouth is watering and I'm hearing bees everywhere…).
I also find great the experience of eating some honey like our early ancestors did : The bee brood, the honey, the bee hive and the bee.
I just thought "Whoa, I just chose the perfect dessert" until Bruce, the owner of the restaurant, came at my table for a talk and gave me a spoon full of their caramelized mealworms with salted butter… Just gorgeous, I will try this dessert the next time I will come in London.
---
For a conclusion about the Archipelago, I loved this experience. The place is special, the team is very present for guiding you (it's very important when you want to try such exotic food!) and the cook is very talented. I had a long talk with, Bruce, the owner and he's very concerned about the origin and the sustainability of all of his food sources (for example, the bees are local drones rejected from the hives). All these exotic food are presented and described in a such way that this experience is really unique and wonderful. If the goal of the Archipelago is to provide you unforgettable moments, well, I will remember this dinner all my life…
If I needed to find a negative point, I found the salad recipe too simple, but I can't blame on it, the goal of this side dish is to introduce simply insects (I must be his only customer crazy enough for creating a totally non-sense story and recipe about some Hobbits eating some crickets with squash in a salad…).
---
Eating insects in London, Interlude : an incredible story!
This little interlude is here for telling you an incredible story, in a way it's also related to eating insects. (Everything in life is connected to bugs.).
Let me paint the scene for you! The main purpose of my travel in London was attending at a conference given by Elliot Hulse, an American coach about growth and self-development, the connexion between sport and life. On the convocation letter, it was written : "Wear some comfortable clothes, we're gonna move a lot!"
Okay, now you're with me! You can imagine me walking around London with my most confortable clothes : my Five-Fingers and my Chapul shirt.
I was focused on the map for trying to be on time for this meeting attending 400 people. After being lost two or three times, I was walking very fast and silently with my cricket shirt and my liberated toes when I overtook a girl who stopped me :
Hey, excuse me are you going to the meeting?
Yeah, for sure let's go together
I'm coming from Canada and will stay in London for 1 month and you?
I'm from Strasbourg in France, I came specially for the event!
Really, I'm gonna study in Strasbourg next month!
Incredible huh? : "What was the chances that a person I meet in the street who comes from Canada, stays in London for only month is gonna start studying in my little city in France next month?"
Well after chatting about our lives, I just said naturally : "Yeah, you know I really believe that eating insects will change the world" (CRAZY GUY ALERT LEVEL MAXIMUM!).
As she was interested by this idea, I invited her to share a drink (and some bugs) at the Nightjar where I booked a table. Like Marcel Dicke, a famous Dutch scientist expert in the field once said :
People found that we were nuts, but it's not bad, at least we got their attention. If people think you're crazy, they don't view you as boring. They thinking you're doing something worth thinking and talking about.
Eating insects is cool, sharing some bugs with a new friend is better!
Met at conference for growing stronger, eat bugs together, let be friends forever!
---
Eating insects in London, part 2 : The "Inca Cocktail" at the Nightjar
In an article published in the Telegraph last week , "Cock-roach Tales: how top bartenders are using bugs in our drinks", I discovered that a bar called the "Nightjar" in London added a special cocktail with some insects on their menu: "The Inca Cocktail"
"I'm going in London in one week and they added this cocktail just now, I have to try it. Not possible to book a table for one? No problem, I will book for two!" (I told you that everything in life is related to eating insects!)
The Nightjar is a very classy bar located in the center of London that serves amazing and special cocktails and where you can listen some artists playing music every evening.
While you're enjoying your "Happy Buddha" or "Alchemist brew" cocktail, you will be able to listen to a jazzman playing the piano. Sounds great huh? And now that eating insects is also possible, it sounds totally perfect to me!
My special guest ordered a "Honey smash" composed of Jack Daniels Tennessee Honey, Ginger Wine, Lemon, Bee Pollen, Watermelon, Karela Bitters, Spearmint and Elderflower. (I already like her, she's also ordering some insects products!) and I chose the "Inca cocktail" composed of Jose Cuervo 1800 Silver, Tomatillo, Hazelnut Oil, Lime, Chilli Wine, Epazote, Buffalo Worms, Fino Sherry and Agave.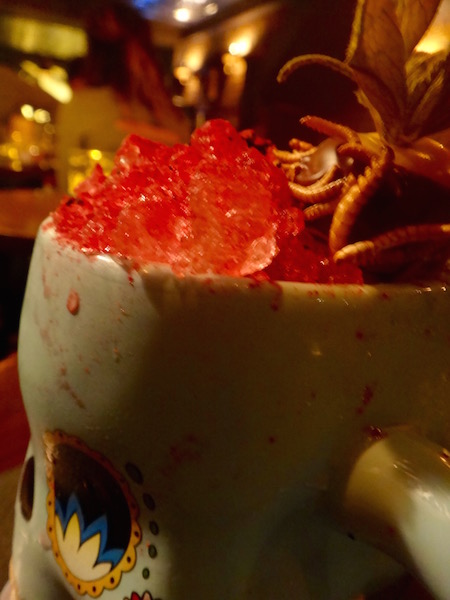 As it's not already printed on the menu, they must be still working on the recipe. The presentation is great, the cocktail had a nice red color that went well with the blue skull mug, the dark chocolate, and the golden buffalo worms. Cheers Quetzalcóatl : This Inca Cocktail is delicious and well balanced!
The buffalo worms were not in a parchment but coated in chocolate on an exotic fruit. In this case, it's more a decoration, but it's really nice visually and would be more easier for a first bug try. Like David George Gordon would say :
If it's coated in chocolate, everybody will love it!
We both loved our cocktail and the general ambiance of the bar. I also let my guest try her first bug bite with this cocktail. Well, with all the chocolate and the fruit, it was difficult to distinguish the flavor of the bug, but that wasn't a big deal, it was more for the experience.
Even if insects are only a little tiny ingredient of this gigantic menu and are mainly present for the decoration, the general ambiance of the bar, the presentation of the delicious cocktails had turned this tiny buffalo worms into a gourmet decoration!
We both have a great moment in Nightjar. By the way, I always got some bugs in my bag, so we finish with a real insect tasting experience during our walk through London.
---
Conclusion
These 2 experiences were my first real bug-gourmet experience. (Well, the Bug-Banquet at Montreal was also "gourmet" but it was prepared specially for us not for people who rarely eat bugs, so it can't be compared…) I really loved these 2 moments. First, the restaurant serves really great food and know how to cook bugs. Secondly, eating insects in a bar would have been cool, but sharing some bugs and some stories with a new ento-buddy is far more a greater experience!
Take care and see you soon!
Florian