Cricket & Mealworms Bolognese : One Hop kitchen on Indiegogo
I'm back! I'm here again to talk again about cricket, grasshopper and mealworms! Yeah, I already miss you guys… Once you start writing and creating a connexion with your audience; it's really hard to stop like that!
As you may know, I was in Detroit 2 weeks ago for the "Eating insects" conference. It went pretty well; I had a speech and the audience was really interested by the Livin farms Hive; the first home device that let you grow insects right in your kitchen.
But I started writing again now for another reason. It's because I want to share something really amazing I tried in Detroit. I had the opportunity to taste something great; The One Hop Kitchen Bolognese sauce with mealworms or crickets instead of beef. And, now they are on Indiegogo !

---
Invisible cricket & mealworms ?
T'm more the kind of person who prefer to show cricket and mealworms just as they are. I think it helps to be more aware of the food you eat. But, this is my own point of view; I'm not alone and I'm not necessary right…
There are also a lot of people who would love to try edible insects but as a first try would rather prefer to not see them. More over; transformation is a normal step in the food system. There is always a difference between "the raw ingredient" and "the food".
I would be okay to try crickets but I'm not ready yet to see them.
That makes a lot of sense; when you'll mix them with familiar products you just realize that they taste good! So, a barrier is broken.
This idea was developed all along the Detroit conference by various speakers. That's why different companies are genuinely using cricket in powder instead of the whole roasted insect for several years now. The versatility of this cricket powder led to different products such as cricket bars; crickets in baking flour and now crickets and mealworms pasta.
That's not all; During the conference, I had the opportunity to try a really innovative product : The One Hop Kitchen bolognese sauce.
---
A bolognese with insect protein?
If i'm so excited about this sauce it's definitely because of the smooth texture of the product… (and obviously because it's delicious!)
Eli and Lee Cadesky, the 2 Canadian brothers behind these delicious mealworms and cricket sauce developed the C-Fu; the first textured insect protein.
I know Eli and Lee for a long period of time now; and I was always curious to try this insect protein but unfortunately; it must be kept refrigerated so it was difficult for me to try it… But thanks to the Detroit conference; I met them and tried their products!
Now this is different, this amazing product can be kept at room temperature in a jar (before opening only! Lee, who is food scientist doesn't make fun of food safety!). So you'll be able to see by yourself how smooth the texture is! I was able to bring some at home and share it with my family. (They will soon try it!)
We're not just putting crickets and mealworms into a sauce, we are using an insect textured protein to turn it into a real bolognese sauce.
Eli Cadesky
After my first bite; in a taco cooked with love by Eli himself; me and Nicolas from Jimini's looked at each other and said :
Dude; this is delicious, these guys are genius; they bring entomophagy to a brand new era; this is the future…
Yeah, you know me; I'm quite expressive when I'm talking about delicious, healthy and sustainable food made with insects… but guys, seriously… This is definitely something… For a long period of time; everybody was speaking about a palatable texture from insects protein. And now it is real… And it's not only palatable, it opens a brand new world of taste and products; and more over the sauce is completely delicious and the texture is really smooth!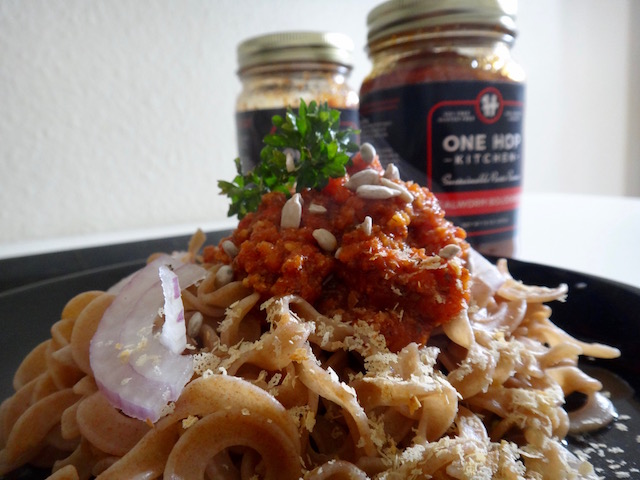 ---
Cricket and mealworms turned into deliciousness!
During the tasting expo of the Detroit conference; they got a lot of success. And it was not only because these 2 passionate brothers were full of energy and empathy! Everybody wanted to try the One Hop Kitchen sauce and the majority didn't come once… (For the dessert, they even prepared some mealworms ice cream!)
The nutritional aspect is also really interesting. There is as much as protein as a traditional bolognese sauce; a lot of vitamins and minerals all with a delicious taste, a smooth texture for a tiny food print.
The only problem is; which one to choose? You can taste the difference between the cricket and the mealworms but choosing is another thing… Honestly, I can definitely consider it as a comfort food!
---
One Hop is on Indie Gogo!
This tasty sauce is not yet available. If you too want to try them and pre-order your jars; you can participate at their Indie Gogo campaign and you'll have a lot of cool goodies too! As an European, I need to see with them how I can have my One Hop Kitchen jars. I definitely need some!
In conclusion; if I'm so excited about these sauces and I would love to see them on the shelves; it's not only because I found them delicious and smooth… It's because it's the beginning of something even greater… (Did I told you they created mealworms ice cream ?) I met Eli and Lee; they are professionals, skillful and they already showed that they are able to produce delicious, sustainable and healthy foods… I can't wait to see whats coming from One Hop…
Take care and see you soon! (It's good to say that!)
Florian
---
F
or a complete interview of the 2 founders; you can read this great article written by
Aly Moore
in her blog "Bugible".