The Cricket powder power smoothie
Hello everyone!
Today I share with you my new experimentation …
I saw in the news a few weeks ago that a fast-food used some cricket powder in a smoothie. Not bad, but it's still a "candy", let's try a healthy-performance smoothie.
After cricket powder enriching some pancakes and cricket powder flavoring a mug cake, let's try some cricket powder boosting a post-workout smoothie: The cricket powder power smoothie.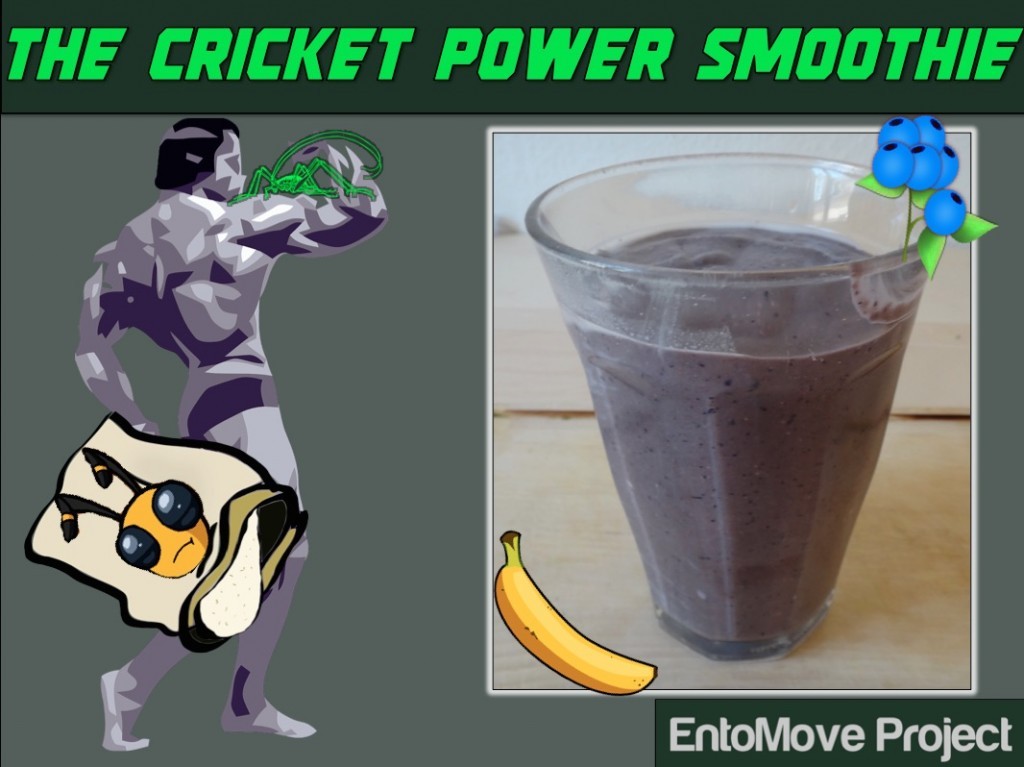 ---
The cricket powder smoothie : A delicious pack of energy for chirping and jumping for hours
Last week, I finished my workout very early and my lunch was far… I needed a real smoothie full of energy, it's the perfect time for trying a smoothie with cricket powder.
Usually after a workout, the whey protein, which is the watery part of the milk, is commonly used. This high-value protein is interesting because it's rapidly digested. But in this case, I needed something different: a real pack of all the nutrients, vitamins and minerals that will totally refuel my body for many hours.
As a main source of proteins, I used some cricket powder. A scoop contains 20 grams of high quality proteins, 6 grams of essential fatty acids and in bonus we've got some iron and calcium. The fibers in the cricket powder will slower the digestion and add some satiety.
After my workout, I needed some simple ready to use carbohydrates for refilling my glycogen level and increasing the proteins assimilation. Nothing better than a banana, some honey and blueberries for having a lot of energy, some potassium, magnesium, vitamins and anti-oxidants.
A smoothie without a liquid is impossible… With all these healthy and delicious ingredients, I used my favorite one: the almond milk. It's delicious, contains no lactose and is full of vitamins and minerals.
I also needed some energy for the next hours, so here is some oatmeal rich in complex carbs, fibers, proteins and vitamins B.
For slowering the digestion, adding some texture, some fibers and some omega-3, a teaspoon of flaxseed is welcome.
For ending, let's boost our metabolism and add some spiciness with a spoon of ginger.
Well, after seeing all of these delicious ingredients, I let you imagine the result of this wonderful mix… It's still blending in my head…
---
Ingredients for one cricket powder smoothie
Preparation time : 5 min
1 scoop of All Things Bugs cricket powder
1 big glass of almond milk
1 ripped banana
1 cup of blueberries
1/2 cup of oatmeal
1 teaspoon of flaxseed
1 teaspoon of honey
1/2 teaspoon of gingerpowder
---
Directions
In your blender, add half of the banana, the blueberries, the flaxseed, half of the almond milk and start mixing on high speed until everything is smooth.
Add the rest of the banana and the milk, the oatmeal, the honey and the ginger powder and blend on high speed.
It's time for boosting the smoothie : Add the cricket powder and blend until everything is smooth.
If it's too firm add some almond milk.
It's ready, enjoy and let the cricket power smoothie gives you energy !
---
W
ith all my new information, I needed to change and
work more on the last part of my Paleo trilogy
… This will be the next post!
Take care and see you soon!
Florian