Insect farming : A campaign to fight malnutrition in Guatemala
If you're accustomed to the topic of edible insects and entomophagy, you evidently read that insect farming can be a solution to fight malnutrition. As eating insects in Western countries is a "new" nutritious and sustainable food source, there are parts of the world where insects could be more. Three girls are fighting malnutrition in Guatemala by empowering local communities to farm mealworms.
They launched Mealflour in 2015 in order to improve health, protect the environment and create jobs. Since then, they built dozen of farms and empower hundreds of people. They now need our support to help them grow. Until the 26th of December, all donation will be tripled. Each dollar counts, so take part in this campaign and help insect farming reduce malnutrition.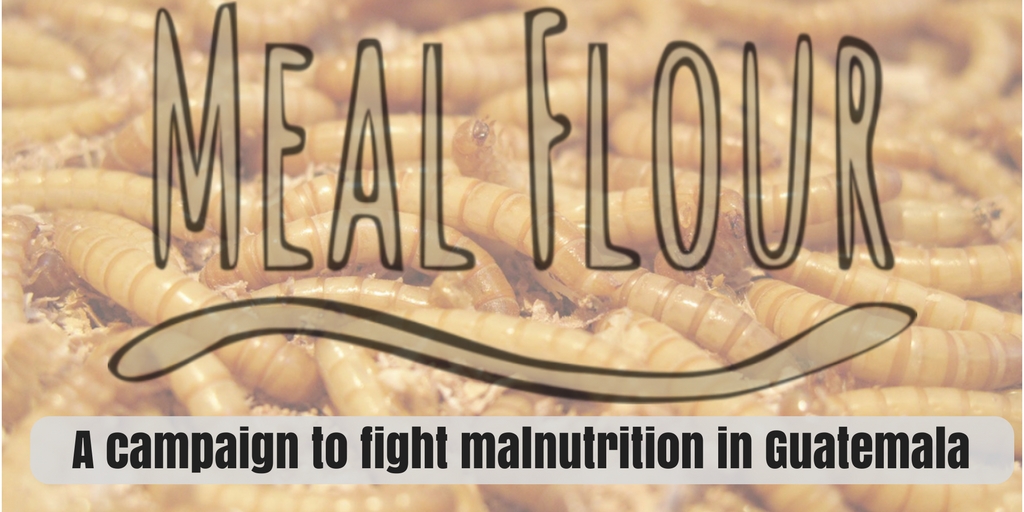 What is Mealflour?
Mealflour is a social enterprise created in 2015 by Gabrielle Wimer, Joyce Lu and Elizabeth Frank. Its mission is to improve nutrition through the sustainable farming of protein-rich mealworms. They teach communities about insect farming and how to turn mealworms into a protein-rich flour.
The mission continues by educating people how to design their own mealworms farms based on the materials readily available to them. Finally, they also ensure that people can grow their own source of protein. It's also a way to increase their income through the sale of excess mealworm powder.

You can be part of this amazing mission improving health, the environment and creating jobs by donating to their crowdfunding campaign.
Why farming insects?
The three American girls chose mealworms as a species of insect to farm. As a mealworm farmer, I'm pretty excited about that! The mealworm is the larval stage of a dark beetle; the Tenebrio molitor. This is a food source easy to produce and with a tiny environmental footprint.
Once roasted and reduced to a powder, mealworms contain more than 50% of proteins, iron, zinc, magnesium and vitamins. They can be added to various preparations and can enhance their nutritional values.
Mealworms can be fed on locally available food scraps such as banana leaves, bread crumbs. Because mealworms require little feed and water to grow, insect farming has a small footprint.
By "spreading the worm" in the Western countries about this untapped food source, we also try to empower people everywhere to embrace edible insects as food again. In many parts of the world, insects have been eaten since the early ages. It's when local communities follow our diets that they stop considering insects as a food source. We can estimate that globally more than 2 Billion people eat 2000 species of edible insects on a regular basis.
Mealworms are especially interesting to farm. You can start farming mealworms pretty efficiently with small investments. With my dad, we began our mealworms farm with a simple set of plastic boxes; we improved our system gradually step by step. Mealworms are polyphagous meaning that they can feed on a large variety of food sources such as oats, bran, fruits and vegetables.
Reducing malnutrition in Guatemala
Just as the "Bugs end hunger" campaign, the 3 American girls decided to promote insect farming in developing countries to fight malnutrition.
They decided to go to Guatemala for many reasons. First, one of the founders, Joyce was working with a nutrition program in Quetzaltenango, Guatemala during the summer of 2015. She was aware of how pervasive malnutrition is here.
According to World Food Programme, Guatemala has the 4th highest rate of chronic malnutrition in the world. With an early experience there, it was possible to partner more easily with organization and NGO already established.
When we think about eating insects, we often have the "Yuk factor" in mind, especially in Western countries. In Guatemala on the other hand, this cultural barrier of eating insects is not present. Edible insects are part of the local culture and are already considered as a food source. All insects are not the same! If you eat some species, it doesn't mean that all insects are considered as food. As in Guatemala people already eat mealworms and closely related insects, there is no problem regarding their acceptance as a sustainable protein source.
Finally, with a hot and moist climate, mealworms can be farmed at home with low technology equipment. People can farm insects directly in their house using plastic boxes and feeding them with food leftovers.
Once ground into powder, the home production of this sustainable protein source will provide nutritious food and extra income for families in need.
Support Insect farming to reduce malnutrition
Working at Livin farms developing the world's first tabletop farm for farming mealworms, I've been touched by this project for a long period of time. Back in France, I donated to the crowdfunding campaign and got a great guide on how to farm mealworms.
During this holiday period, you too can support insect farming by donating to the Mealflour campaign. From 1 to 1000$, all the money will benefit the project, from setting up a farm to one family to provide them training in insect farming. If you need another reason, there are mealworms cookies to win!
Have a great day!