Cooking mealworms:Different diet,different flavor?
There are a lot of different delicious products offering seasoned mealworms available now… Mealworms spiced with curry, garlic & herbs, barbecue are all delicious… But what about changing their diet and see if the taste is different? We know that diet has an impact on the nutritional values but let's give a try and see if there any difference if you feed mealworms with different diets.
---
Different diets for my mealworms and their effect
For this experience, I tried feeding my mealworms with 3 kinds of flours instead of wheat (from left to right) :
Buckwheat flour
Corn flour
Rye flour
This photo from my Instagram account was taken during the beginning of the process.
Proper Preparation Prevents Poor Pupation
You can also admire my home-made little farm, but soon there will be possible to have a real automated kitchen hive for growing your mealworms!
I didn't noticed any difference for the growth, all the mealworms seemed happy with their own respective diet. If you can't wait for the automatic hive, here is a great blog for learning everything about mealworms, so you will be able to breed them like a boss : Edible Bug Farm.
---
First result : Different colors for my mealworms !
Here are the thawed mealworms after a great life of munching the different diets.
As you can see, there are some differences in their colors. Honestly, I didn't expect this. I know that the color of the insect can also vary regarding the breeding's density, I tried to avoid this by farming the same quantities, but maybe I made a mistake.
I took the same weight of insects, 30 grams and see no slight differences regarding the volume or the numbers of insects. (Yeah, I counted them!).
All of this make me hungry, let's cook them!
---
Cooking step of the mealworms
After rinsing them through a colander, I tossed them in a medium-hot pan with olive oil.
I cooked them until they become gold and crackling, about 6 minutes.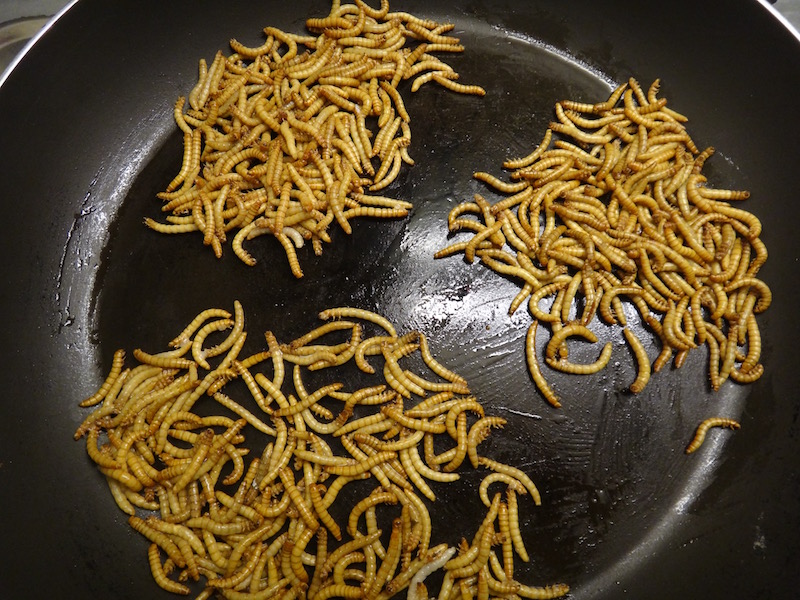 What a nice smell and variations for the gold colors!
It's now time to try them, I can't wait any longer!
---
Different diets, different taste?
It's now the final time, like would say my dear friend the Bug Chef : "Eat it, eat it, eat it!"
I add only salt & pepper during the cooking and eat them with alfalfa sprouts and a winter salad made with shredded carrots and cabbage, raisins, walnuts sprinkled with sauce composed of hazelnut oil, raspberry vinegar, honey, ginger and cinnamon.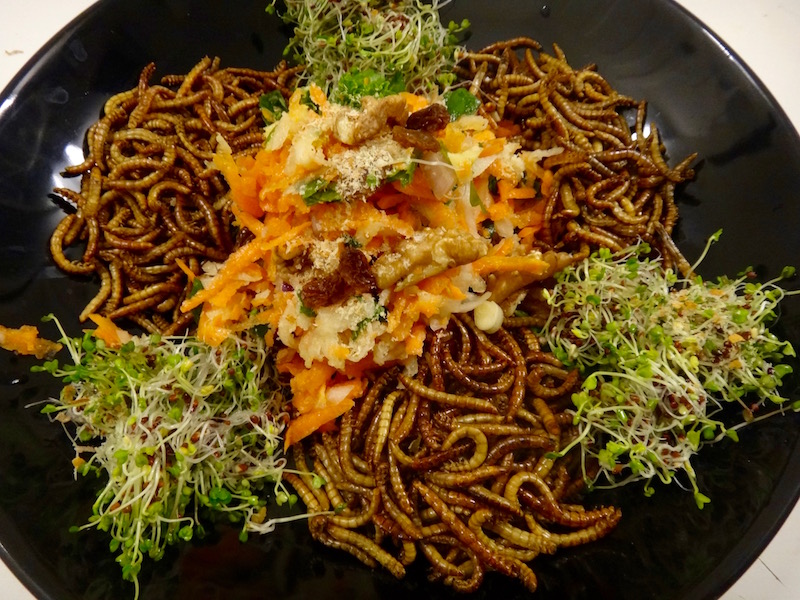 So finally, I found some little differences in the nutty aromas and flavors between the different preparations. If I needed to class them : Buckwheat, Corn and Rye. (That makes me think that you can surely farm mealworms in a Gluten Free way!) Needless to say, I loved my dish…
Honestly, this experience was great and deserve more depth tryings… I also have to admit that I don't think that someone who never tried mealworms will notice a slight difference. But what about getting any further with other diets combining different fruits and vegetables and flours? This is another story…
Take care and see you soon.
Florian