A hobbit recipe : The special buttercup squash salad of Bag End
Today is an important day… The last episode of the Hobbit, "The battle of the five armies", is released in theater. (In France, it was released last week so I already saw it…). This is the last movie that will close the saga of "the Lord of the Ring" which started 14 years ago. (Now cry!)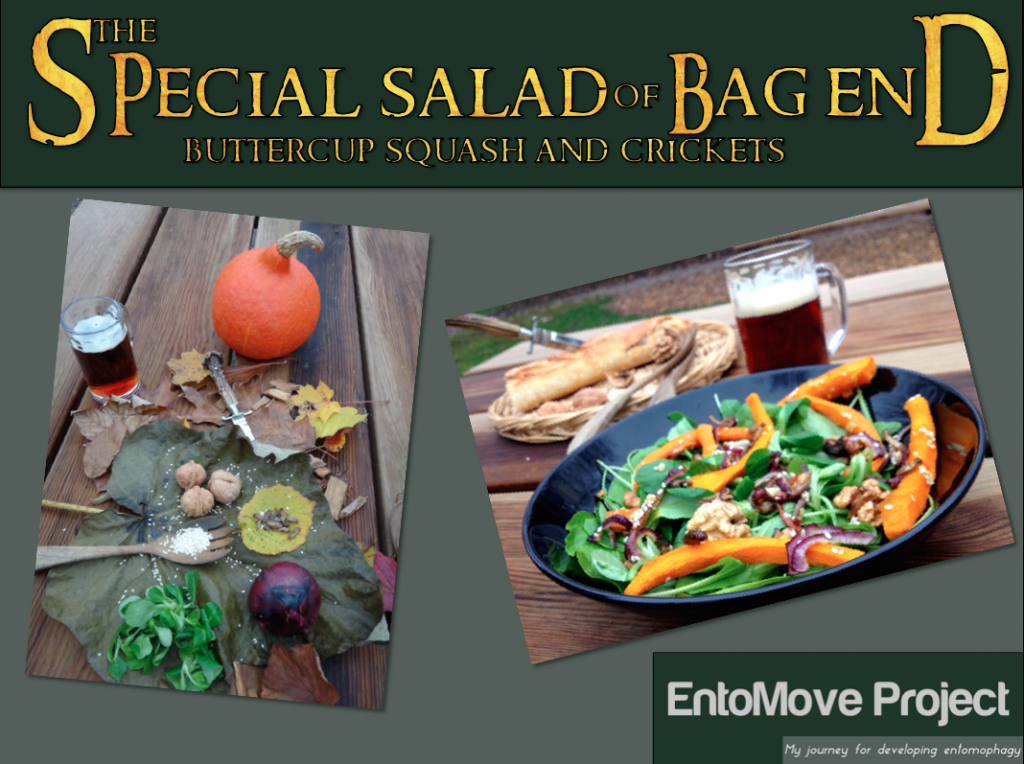 I tried to celebrate this event in my own way and I hope that you will like it! It's a little story and a recipe made with crickets for promoting entomophagy, I don't want to disrespect or offend the Tolkien's purists and fans!
In bonus, you will fin some total out-dated memes!
I'm not alone for this post, it would not have been possible without my dear friend and elvish teacher Kiah! Now, she won't stay in the shadow like Bilbo with the ring on his finger, she has an editor account on my blog and can post her own article whenever she wants! She is now a dear member of the "Fellowship of the bug-eaters"!
---
By the way, I admit that Frodo, Aragorn, Legolas, Bilbo, Gandalf, Thorin and others did great work for saving and preserving middle-earth, but we don't have to forget the amazing work that did the little butterfly in the first part of the Hobbit movie. He sent the message from Gandalf to the eagles that save them all from Azog and the terrible Wargs.
So, in a nutshell, no insect, no hobbit, loss of the ring, BOOM, victory of Sauron, all the saga stopped after 2 hours of the first film. (Wow, if after that you don't love and respect insects…)
(Okay, okay I admit that some arachnids were not there for helping them...)
Well you waited for the story, here it is! (It seems that Peter Jackson tried to contact me due to my amazing scenario and my incredible playing skills…)
---
"
A
long time ago in a galaxy far, far away…."
Oh, Wait… Sorry, that is for next year…
---
Yesterday, I went in my basement for searching my christmas decoration. During this dangerous journey, I found a sealed and old letter. I was very surprised by this founding and I ran as fast as I could into my room to open it. I knew that there was something special with this letter… It seemed to be really old and special… When I opened it I was astonished…It was written a long, long time age by Bilbo Baggins the hobbit himself… Here is the original version of the letter I share with you!

---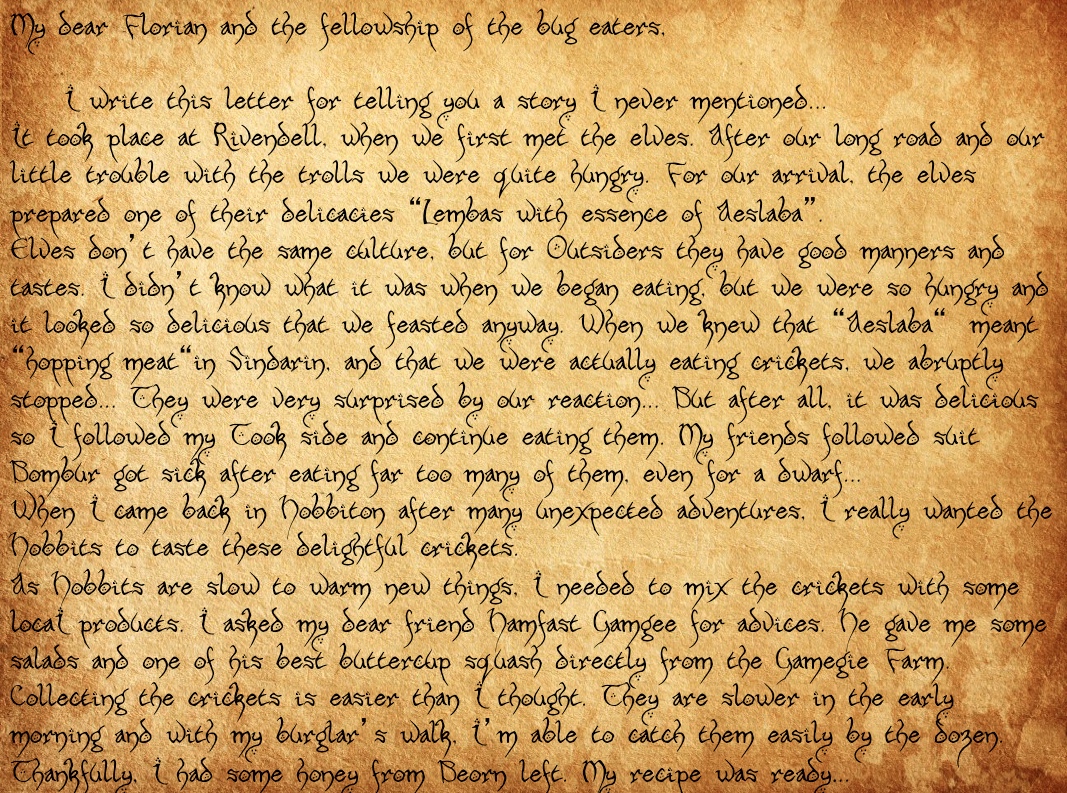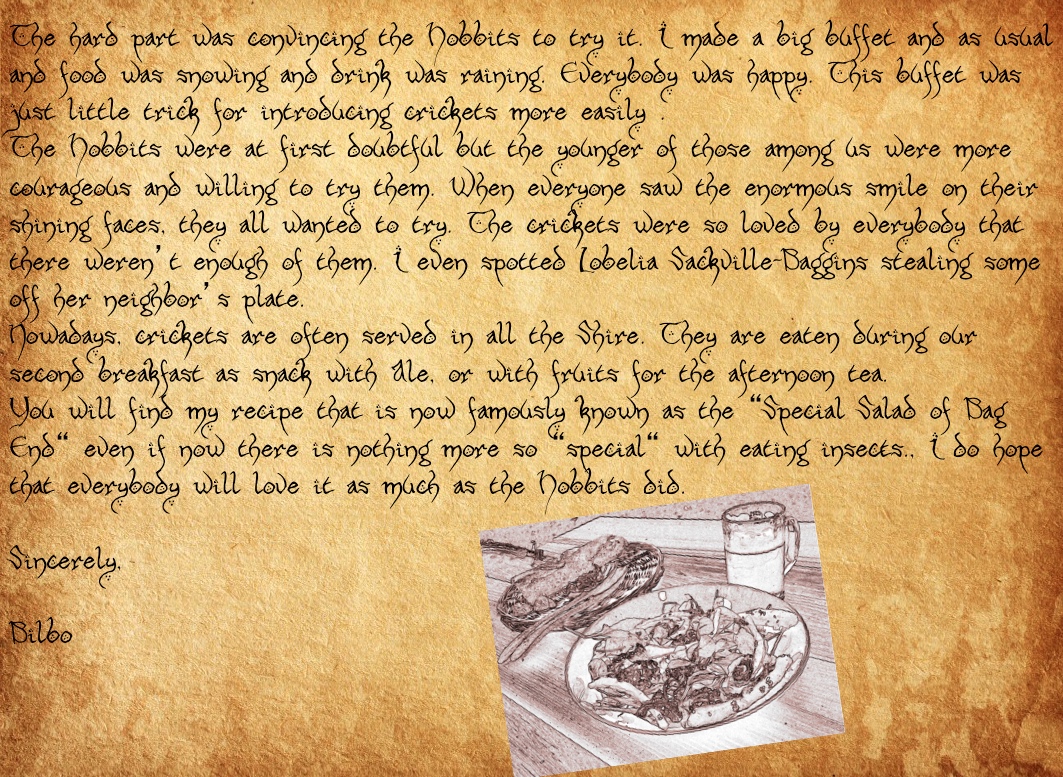 ---
THE SPECIAL SALAD OF BAG END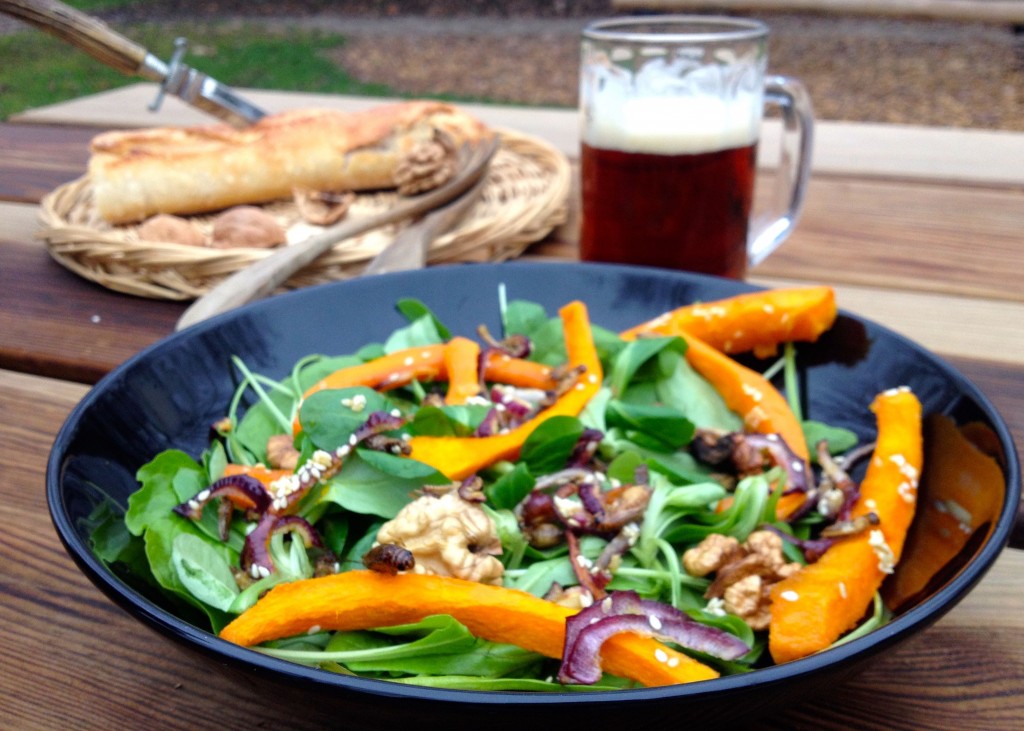 Presentation of the hobbit's recipe
First of all, I have adapted all the quantities because a hobbit speaks only with dozen and grosses so that's why they are not very precise and you may be need to adjust them.
For my personal recipe, I used a red Kuri Squash but you can use every squash you want. Sadly, they may be not as good as ones coming from the Gamegie farm's.
The squash is full of vitamin A, this vitamin is good for the vision and you will have the same sharp eye as an elf.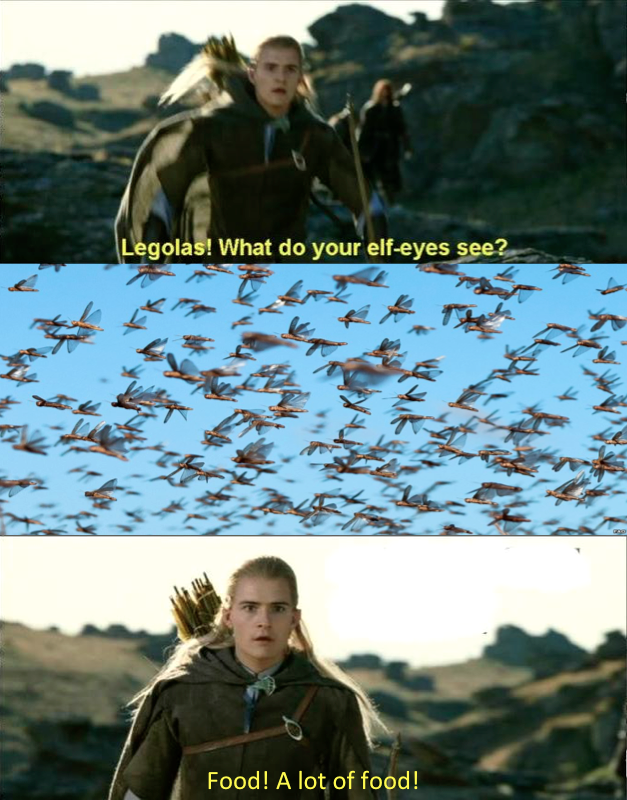 The proteins, calcium and the iron that are present in high quantity in the crickets will make you stronger than a dwarf and your bones more solid than Smaug's scales.
The honey and the apple vinegar will strengthen your defenses. It will be very useful in case you are facing some orcs with their dangerous weapons.
The omega 3 in the walnuts and the hazelnut oil will give you a strong heart and is good for concentration. That can be helpful if you have a ring to carry to Mordor…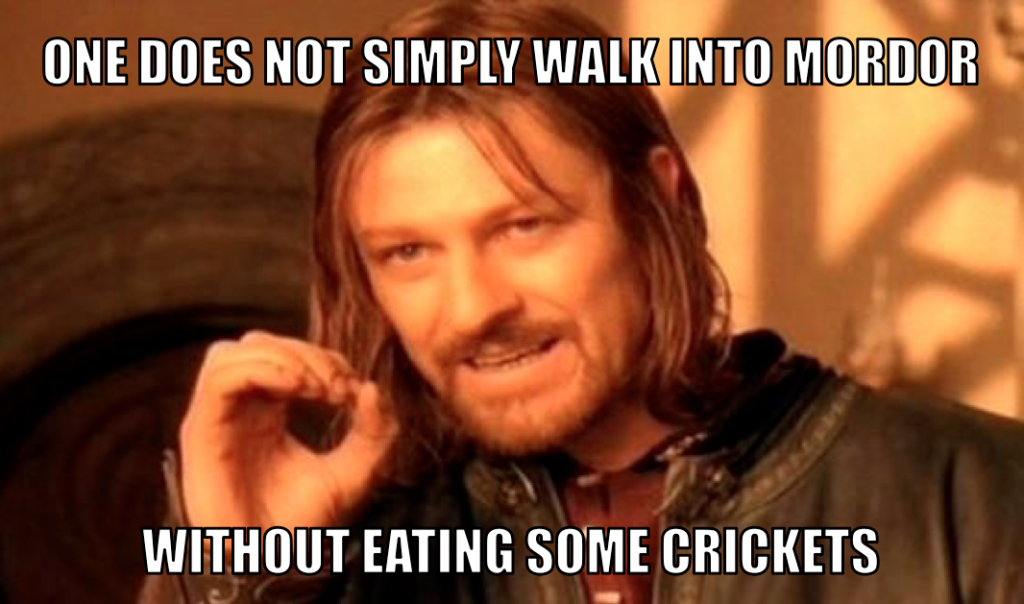 More than delicious and healthy, this salad is made with almost only local and seasonly products!
Crickets are a sustainable source of animal protein. For example, they are a more sustainable source of protein than the Mirkwood's deer, the Rohan's salmon or Gondor's wild boar.
As Hobbiton is a little far from me, I used some crickets coming from Micronutris. I'm sure that they are as good as the ones coming from the Middle-Earth.
---
Preparation time : 30 min (depends a lot on your ability to cut and peel the buttercup!)
Cooking time : 40 min
Nutritional value (per person) : 200 kCal (Proteins : 16gr, Fat : 13gr, Carbohydrates : 5gr)
---
Ingredients (for 4 hobbit) :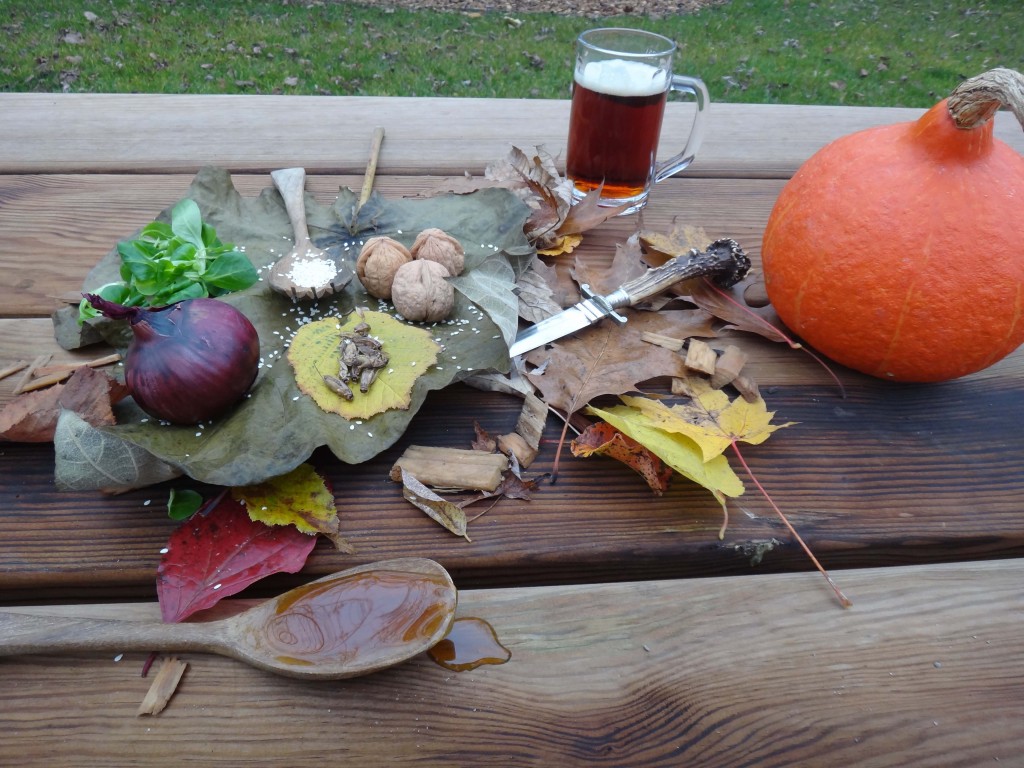 For the hot preparation :
1 buttercup squash (or butternut, Red Kuri squash, pumpkin…)
1 tablespoon of honey
1 tablespoon of hazelnut oil
50 grams of dried crickets (or 250gr of fresh ones)
20 grams of blond sesame seeds
For the salad :
75 grams of ruccola
75 grams of spinach
75 grams of corn salad
50 grams of walnuts
For the vinaigrette :
2 tablespoons of hazelnut oil
1 tablespoon of apple vinegar
1 tablespoon of honey
For seasoning :
salt
pepper
ginger powder
---
Directions for eating like a hobbit: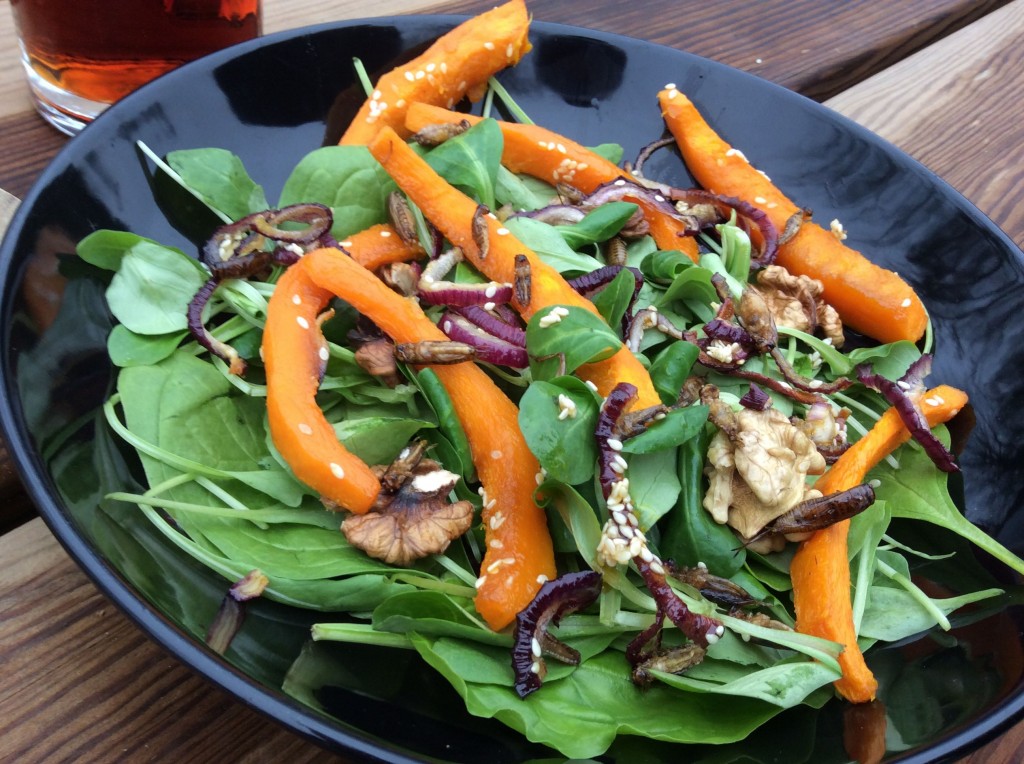 Preheat the oven at 400°F
Cut the buttercup squash in 4, take off the seeds and peel it.
Tip : Don't throw away the seeds, they can be dried or baked in the oven. They are delicious and full of fatty acids and proteins! They can be used for topping the salads or as an healthy and delicious appetizer
Slice thinly the buttercup squash and the red onion. (the slices of the buttercup about 1 cm thick and the red-onion 0,5 cm thick)
In a plastic container, put your buttercup squash and onion slices with 1 tablespoon of hazelnut oil, a little bit of salt, pepper and ginger powder and shake until the oil is evenly spread.
On a baking sheet put the slices of onion and buttercup in the oven and cook them until it becomes tender (approximately 30 minutes at 400°F).

Add the sesame seeds, the crickets and baste with one tablespoon of honey. Heat again for 5 to 10 minutes.
Tip : If you heat gently the honey, it will be easier to baste it over the preparation! Before putting the crickets in the oven, I moisturized them with my steamer.
Preparation of the vinaigrette
In a container, mix the apple vinegar, the honey and the hazelnut sauce.


Dressing
In a salad bowl, mix the salad and the walnuts.
Add the hot crickets, the onion and the buttercup squash.
Poor the vinaigrette and serve hot!
---
I hope you will enjoy this recipe and the movie! Don't be as grabby as Thorin with his Arkenstone and feel free to leave a comment about your feedbacks!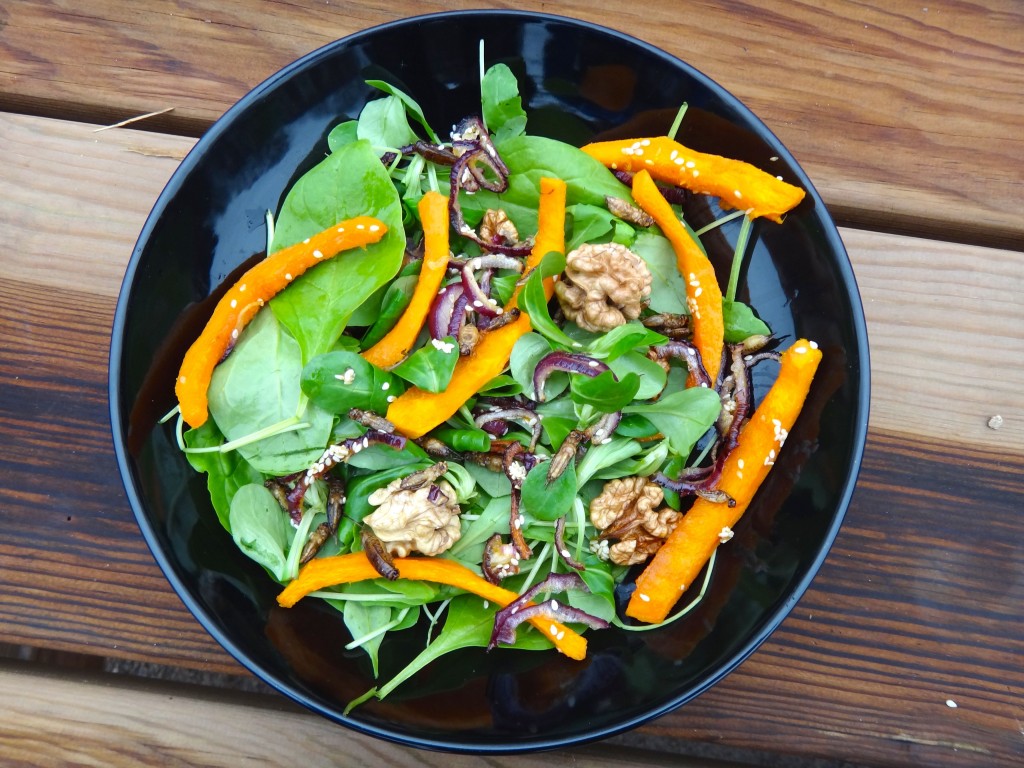 Bug appétit!
Take care of you and see you soon!
Florian & Kiah
---
Pssss…
take a look, little ssssssssneaky hobbit…
So it seems that Hobbits are missing their fried eggs and bacon…