Insects for Halloween : Grasshoppers on black & orange smooth coffins
You know which period we are… so let's cook insects for Halloween…
Well… Insects for Halloween are often use to "scary" people and play on the "ick" factor.
Dare you to eat some delicious food?
You probably know that bugs are definitely part of my new diet and how much I respect them so I won't make them look gross and try to give honor to these wonderful and crunchy Jimini's – "Les insectes comestibles" grasshoppers.
I could also have used insects for Halloween combined with well-known and usual products and flavors… But, No! Let's give a total and unique experience to my guests, it's the perfect moment to create something unexpected!

So, let's try to do something classy, tasty, nutritious and with a lot of powerful and new flavors… Challenge accepted : Let's try to honor my wonderful edible grasshoppers and lay them on some nice black and orange coffins!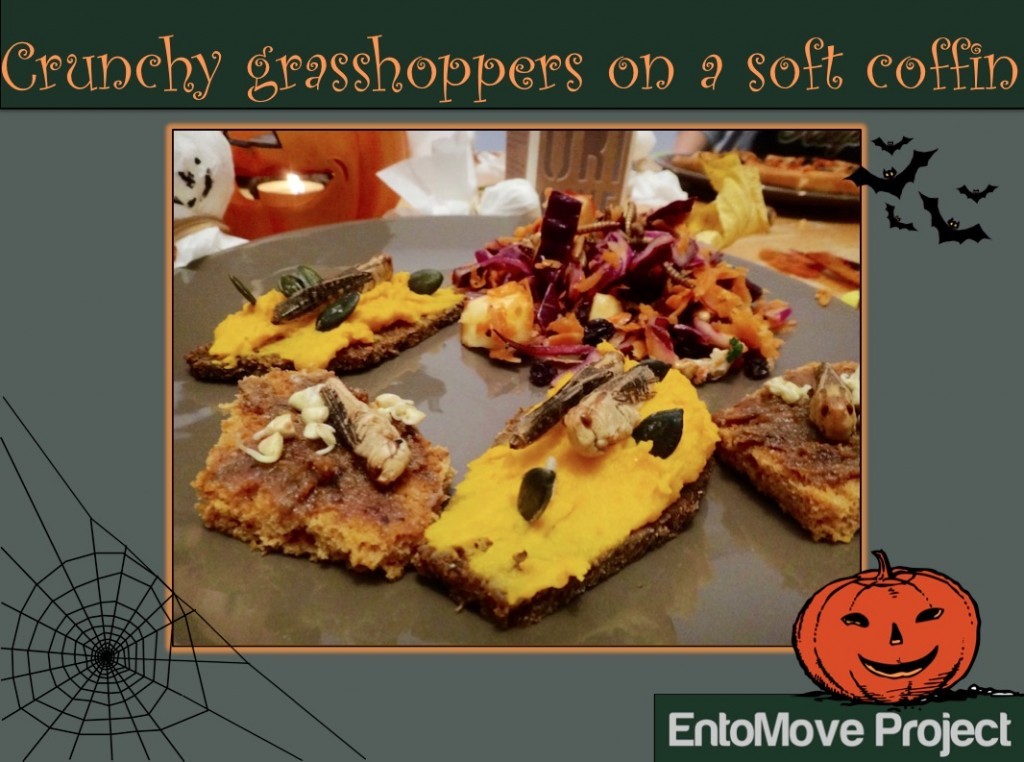 ---
Insects for Halloween : Great, but need to be flavorful!
After some canapés for the summer, some canapés for Christmas, let's make some canapés coffins with insects for Halloween!
I tried to mix some different flavors and tastes, specially the salt and sweet : Miso on gingerbread and pumpkin with carrots on pumpernickel. With these strong flavors, the natural crunchiness and nutty flavor of the grasshoppers is perfect.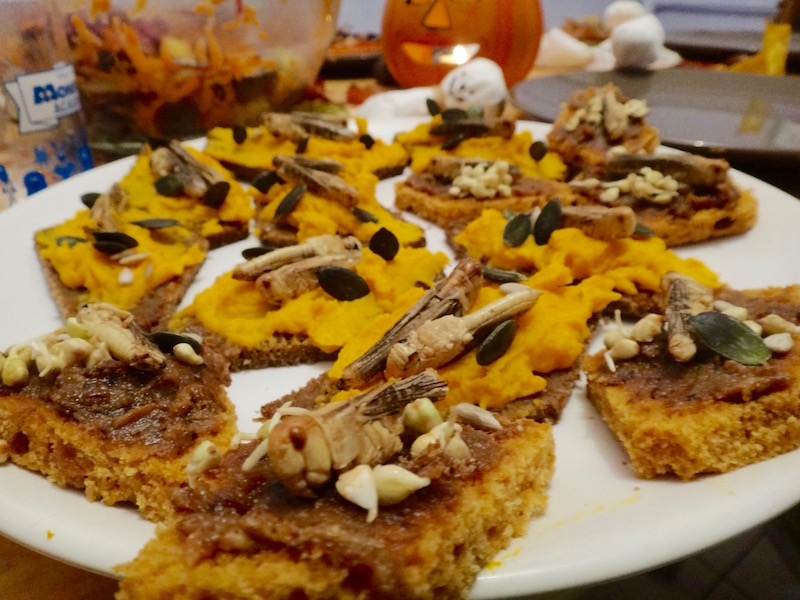 ---
Insects for Halloween : Great, but need to be elegant!
Let's honor my beautiful grasshoppers with some good ingredients, sprinkle them with some sprouts and seeds, and make them shine on a bright orange and a profound black coffin.
---
Insects for Halloween : Great, but need to be nutritious!
Preparing some insects for Halloween and specially on canapés doesn't mean you have to compromise on the nutritional aspect! Let's package everything with a lot of good things! The pumpkin and the carrots are a great source of vitamin A, the grasshoppers and the seeds are high in proteins, vitamins and minerals, the cashew butter contains some healthy fats.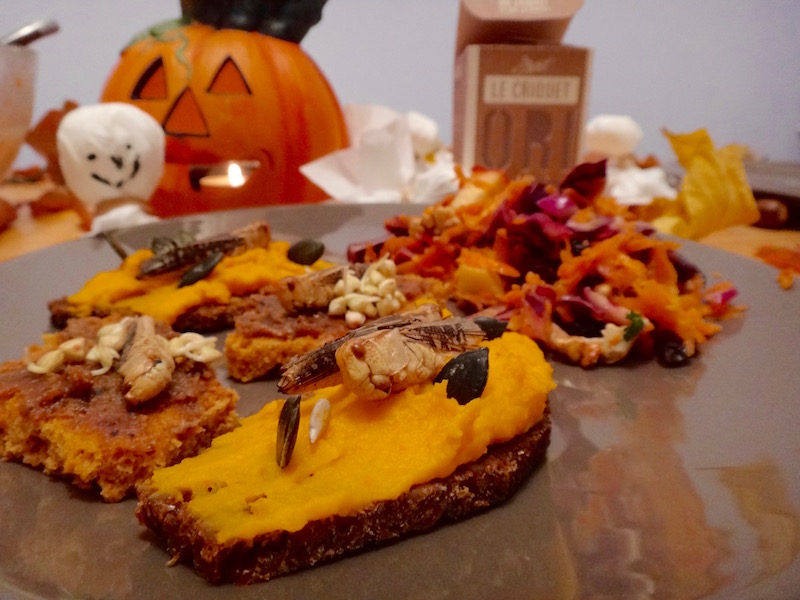 ---
The ingredients
This recipe is perfect for discovering a lot of new products and unusual flavors. I found all of these in local market for the vegetables, in organic store and asian store for the other products, and the insects come from Jimini's. (I'm pretty sure that you'll love all of these products and you will want to incorporate them more oftenly in your dishes)
Preparation time : 20 min
Cooking time : 20 min
1 box of "Jimini's – Le criquet Origine"
For the first recipe :
12 slices of Pumpernickel
1 sweet potato
1 tablespoon of peanut butter
200 grams of Kuri squash
2 carrots
1 white onion
1 teaspoon of cinnamon
1 teaspoon of cumin
Salt and pepper
Some pumpkin seeds
For the second recipe:
12 slices of gingerbread
1 teaspoon of miso
2 tablespoon of cashew butter
Some sprouts
Directions
Peel the sweet potatoes, the carrots and cut it cubes. Cut your Kuri squash in 4 and discard the seeds. Slice the onion. Cook everything in boiling water for about 20 minutes with the spices, the vegetables must be tender.
Cut your gingerbread and pumpernickel into nice coffins : The orange and black beds are ready!
Mix the miso with the cashew butter : Dark blanket is ready.
When the vegetables are cooked, put them in a food processor and add some peanut butter. Mix everything : Orange blanket is ready!
Spread the purees on the coffins (mix the color, if you want!) and sprinkle some seeds and sprouts.
The beds are now smooth enough to lay our crunchy Lord Grasshopper on them for eternity.(Just kidding nobody resisted!)
---
I hope you will like this recipe. I'm really happy because my guests discovered a lot of new tastes and ingredients.
If you too cooked insects for Halloween, feel free to share your recipe with me.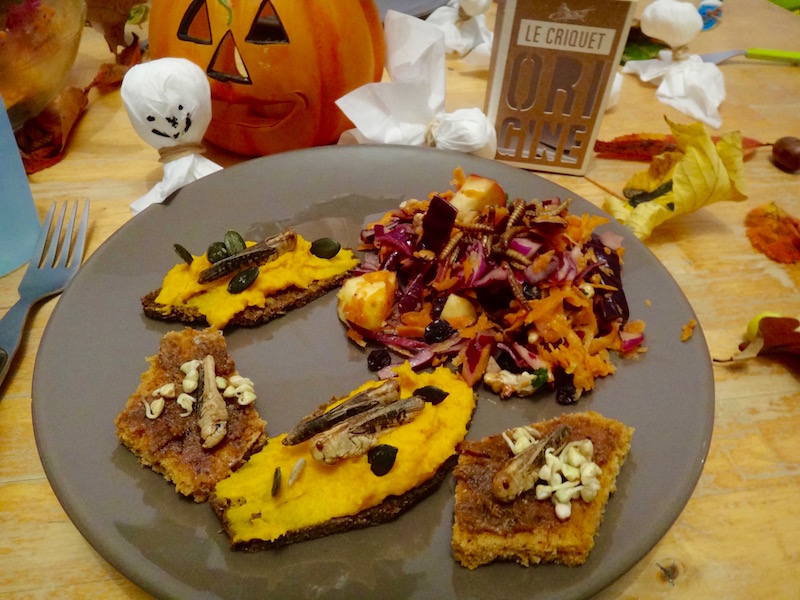 Take care and see you soon!
Florian