Happy new year! A bug's canapé : Nutty crickets on a red couch with Kale chips and mealworms
Hello everyone!
I wish you all a happy new year! I know that 2015 will be our year!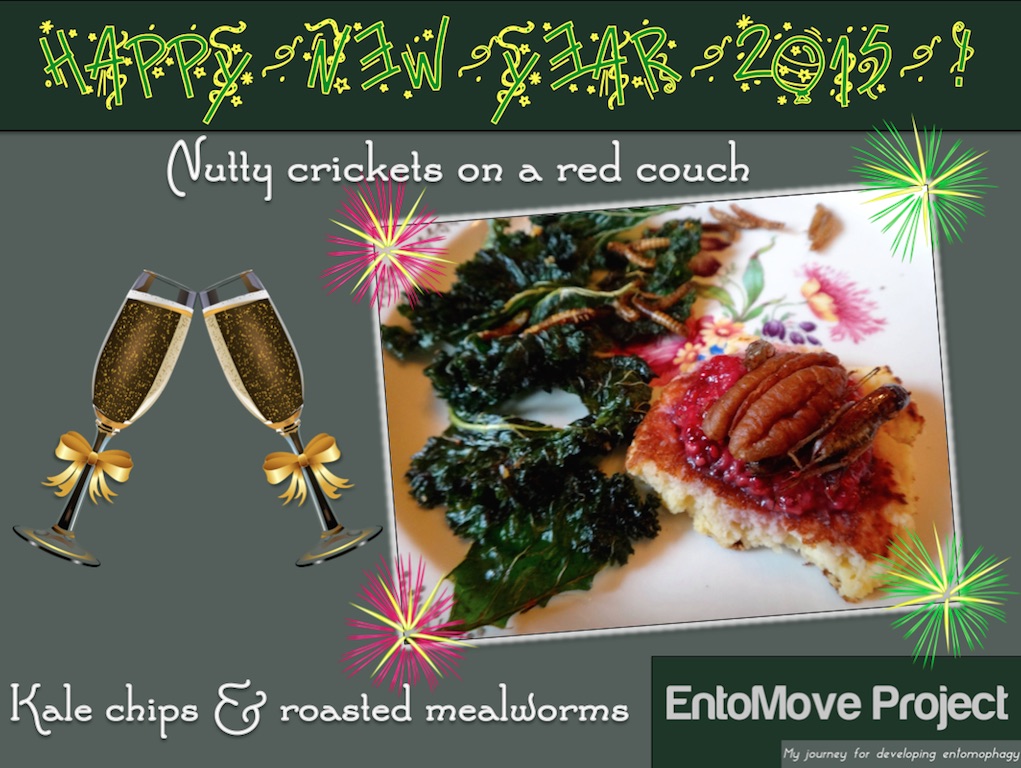 For finishing 2014 (or beginning 2015) in the best possible way, here is a recipe for a healthy canapé made with crickets. I prepared this recipe for Christmas but it will suit perfectly the new year's eve or any party. This red canapé was hidden among some salmon and cream cheese canapés and was served with Kale Chips and roasted mealworms!
If you are allergic to gluten, you can eat this canapé with no problems. The blintz is made with coconut flour!
If you want to turn the "soft canapé" into a"Real cavern's couch" (totally Paleo friendly!), you can replace the yogurt with soy's yogurt!

Funny fact : A "canapé" is the french noun for "couch". (That's why I named this recipe "Nutty cricket on a red couch"!).
PS : As you may know if you read my Buggy-Frutti Advent Wreaths recipe, I was ill during Christmas so, sorry, there won't be so many photos…
---
Informations
The coconut flour is gluten free, rich in fibers, lower in carbohydrates and higher in fats that conventional flours. As this type of flour absorb a large amount of water and will inflate, you may need some baking powder if you use another flour. If you never used it, you will surprised about how it is clumpy. Moreover, it's delicious!
Just as insects, kale can be considered as a "super food". It is rich in vitamins A,K,C and B9 with low calories. Kale and mealworms in only one appetizer, so much "super food" for beginning a super year…
Chia seeds can absorb 27 times their weight in water, are rich in omega-3, proteins and calcium. Guess what it can also be considered as a superfood!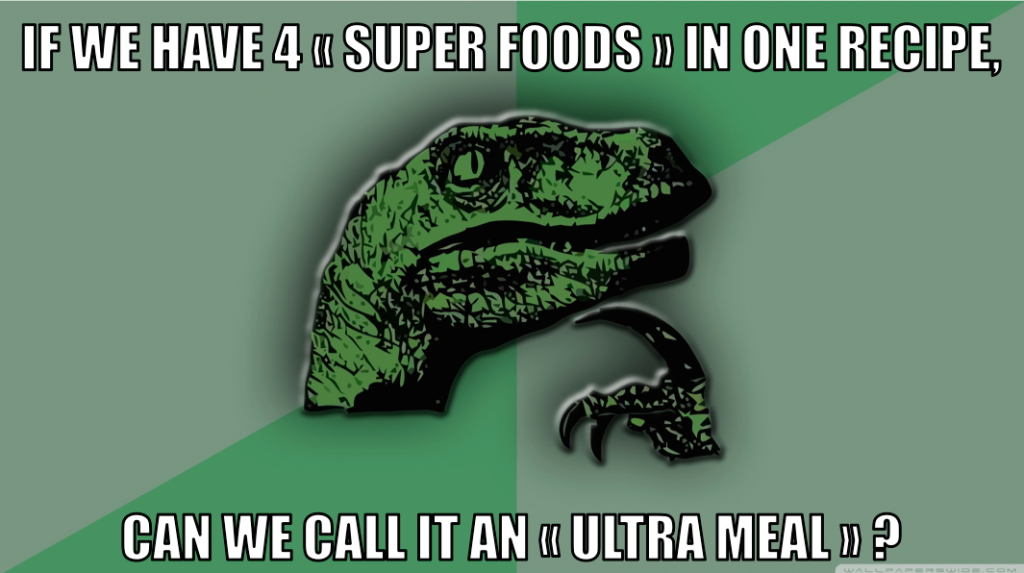 If you add some salmon during your meal, you will have a great intake of Omega-3.
The richness in fibers of the canapé and the chips will help your digestion. That won't be too much in this hard period for our belly…
This recipe will surprise your guests! The canapé and the kale and mealworms chips are full of different colors! The gold, the red, the brown and the green will make shine their eyes. With all these ingredients, I tried to mix different textures with the crunchiness and smoothness and different flavors with a mix of sweet and sour. I hope you and your guests will be delighted!
---
Ingredients (for 12 canapés):
For the blintz :
2 nature yogourts
1 Yogourt cup of coconut flour
A pinch of salt
Coconut oil
For the topping :
12 pecan nuts
40 crickets
Some ginger bread spices
For the raspberry sauce :
1 cup of frozen raspberry
1 teaspoon of Chia seeds
2 tablespoons of olive oil
For the Paprika Kale Chips with roasted mealworms
1 Kale
1 cup of mealworms
1 tablespoon of olive oil
1 pinch of marine salt
1 pinch of smoked paprika powder
---
Direction (for 12 canapés):
Preparation of the insects
Grease a baking sheet with 1 teaspoon of coconut oil.
Preheat your oven at 350°F with the greased baking sheet (the coconut oil will melt).
Put the mealworms and the crickets in a boiling pot of water during 2 minutes.
Information : The boiling process is used for rehydrating your insects, you can also use a steamer. If you use fresh ones, you can simply skip this step.
Drain them in a strainer and transfer them to a paper towel.
Spread the coconut oil with a paper towel on the baking sheet then split the mealworms from the crickets on it. Add some gingerbread spices on the crickets and roast the insects in the oven for 15 minutes.
Put them in a cool place.
---
Preparation of the blintz
Mix all the ingredients in a bowl starting with the eggs turned into an omelette, then progressively the flour and the yogourts and finish with the pinch salt. Whisk all the ingredients together and put it in the fridge for about one hour.
In a pan at medium to high heat, melt the coconut oil and form your blintz. When they start bubbling, flip them gently.
Personal advice, you can prepare many of them at one time but don't try to gain too much time, they will need more attention! I burned one or two…
Put them in a cool place.
---
Preparation of the raspberry sauce
Defrost your raspberries in the fridge the previous day.
Once they are defrosted, crush them with a fork and add the chia seeds.
Add the olive oil and mix just before serving. (If you want to add a little more sour taste, you can add some lemon juice)
---
Preparation of the Paprika Kale Chips
Wash your kale. Cut or tear leaves into small pieces
In a hermetic plastic box, mix olive oil, paprika, and sea salt. Add kale and mix to coat with a spoon or your fingers.
Personal tip : The sea salt has a strong flavor, you can be greedy with it!
Arrange kale on dehydrating trays. Dehydrate at 115° for 3 hours.
Personal tip : If you don't have a dehydrator you can use a conventional oven at low heat during 2 or 3 hours. (Open oftenly the door during the process, for letting the steam escape)
Let cool.
---
Topping
Put the Kale and the mealworms in a bowl or in a deep plate.
Add the sauce, 1 pecan and 3 or 4 crickets on each blintz.
Personal tip : You can reheat your blintz in the microwave before topping them if you want to have a warm/cold canapé.
You can serve it with Champagne. Et voilà!
---
I hope you will want to try this recipe! My family and friends liked them!
My Christmas was like a "protein alternatives" party , I also tried some Tofu and seaweeds. I eat often Tofu and I already ate some seaweeds but it was the first time for my family. With no doubt, they prefer insects!
I hope you will finish well this year and start the new one in the best way! I wish that 2015 will be full of love, happiness and success for you and your loved ones.

Take care and see you next year! (I hate myself for this over-used joke…)
Florian